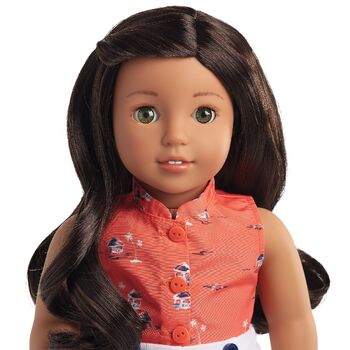 The Nanea Mitchell doll was released in 2017.
Nanea Doll
Skin: Medium
Hair: Brown (fine red highlights), left side part, no bangs, mid-back
Nanea comes with a small part of her hair banded off for her hair clip.
Eyes: Hazel (dark version)
Meet Outfit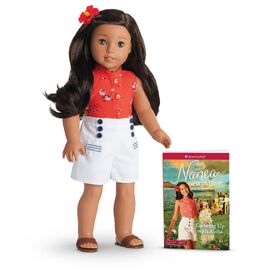 Nanea's meet outfit reflects the more tropical, informal wear allowed in the Hawaii territory as opposed to the Midwest white suburban propriety of her near-contemporary, Molly McIntire.
Blouse
Orange printed sleeveless shirt. High mandarin collar. Print of white and blue accented tropical huts and white palm tree silhouettes. Buttons up the front with three functional orange two-hole buttons.
Shorts
White cotton Bermuda-style wide-legged shorts. Front has two seams trimmed with three navy four-hole buttons. The buttons are sewn above two pointed functional pockets; pockets are trimmed with three lines of light blue ribbon horizontally. Elastic at back waistband for ease in pulling on. American Girl plastic logo on left bottom hem. Shorts fall just above the knee.
Underwear
White knit long-legged "brief" underwear.
Sandals
Brown crossed slip-on sandals. Brown plastic soles. Clear strap at back to keep on doll's foot.
Hair Clip
Red hibiscus flower clip. Yellow center pistil. Green clip base.
Meet Accessories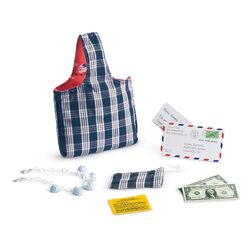 Necklace
Five-shell necklace. White linked chain with spaced shells. Seashells are white spiral-style shells with added blue dots. Heart-clasp at back.
Handbag
Blue and white plaid handbag with open top and single handle. Inner lining matches meet shirt fabric.
ID Pouch
Blue and white plaid ID pouch. White drawstring closure.
Envelope
White Air-mail letter envelope with red and blue trim. Green airplane stamp overlined with postal stamp lines and stamp (San Francisco, CA; PM; Apr 1942) Front return and sending is as typed:
Donna Hill
325 Webster St.
San Francisco, CA[1]

Nanea Mitchell
8087 Fern Street
Honolulu, HI[1]

Letter
Handwritten letter from Donna to Nanea:
Meow, Nanea,

You aren't going to believe this! Sugar is going to be rationed all over the country. That means no more bubble gum for me! I'm rationing my last few pieces. And guess what? Our school is trying to earn a Minute Man flag, too. That makes me feel like we Three Kittens are doing something together.

Meow, your friend,
Donna
ID Card
Yellow ID Card. (dimensions: 1.5" by 1").
Front printed (with simulated typing):
Territory of Hawaii
IDENTIFICATION CERTIFICATE
Issued: 1/8/1942
Name: Alice Nanea Mitchell
Residence: 8087 Fern St Honolulu
Citizenship Status: U.S.
Date of Birth: 4/11/1932


| | | | | | |
| --- | --- | --- | --- | --- | --- |
| Hair: | Eyes: | Height: | Weight: | Age: | Occ:[2] |
| BRN[3] | BRN | 4'3" | 62 lbs | 9 | Student |
Back printed (with simulated typing):
| | |
| --- | --- |
| Left Index Finger | Right Index Finger |
| (image of fingerprint) | (image of fingerprint) |

Signature: Alice Nanea Mitchell
Money
Two $1 Hawaii overprint notes.
Second Version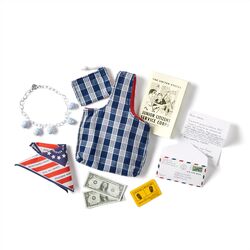 Nanea's second set of Meet Accessories added the following items:
Kerchief
Pearl Harbor commemorative kerchief
Book
United States Junior Citizens Service Corps booklet.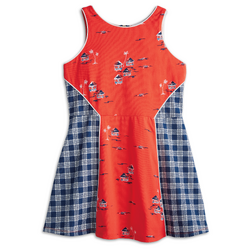 An outfit inspired by Nanea's Meet Outfit, the Hawaiian Print Dress, was available for $48. It retired in 2018.
A Nanea mini doll was released when she debuted in 2017.
See Also
References
↑ 1.0 1.1 While both addresses are written with the two-state abbreviation well known and used today, these were actually not implemented until 1963 with the implementation of the ZIP Code, making this anachronistic. More on State Abbreviations.
↑

Occupation.

↑

Brown.