"Nanea" redirects here. For the doll, see Nanea Mitchell (doll).
Nanea Mitchell is the sixteenth Historical Character, and third initially exclusive to BeForever, representing the 1940s- specifically, Hawaii's role in World War II. She was released in 2017.
Personality and Facts
Nanea is a resident of Honolulu, Hawaii, during the 1940s. She comes from an interracial family, with a Hawaiian mother and a Scottish-American father. Nanea's full name is Alice Nanea Mitchell, though she goes by her middle name.
Nanea is very close with her family, especially her father, and is devastated when he has to leave the family after the Pearl Harbor attack in order to serve the wounded soldiers. She is close enough to tell him when she's done something wrong and ask him for his advice, and in turn he understands her intentions and desires to help and shows her how to do her best. Her brother, David, also wishes to leave to serve in the army, which Nanea dislikes the idea of as she doesn't want to be separate from him nor consider the idea of him being hurt. She shares a room with her sister, Mary Lou, and though the two of them don't always get along, they start learning to work together while volunteering, and share the same taste in music.
She is the youngest of her family, and at first struggles with being seen as the baby of the family, wanting to appear more mature. This is mostly driven by Mary Lou seemingly treating her too young. However, after witnessing the planes attacking Pearl Harbor and having to live through the subsequent safety precautions and America's entrance into the war, Nanea has to grow up a bit too quickly, realizing how much she wishes she could go back to being a happy child; however, she also grows closer with her family and learns about sacrificing for her country, such as giving up a fishing trip with her father in order to keep a promise to her mother and considering giving up her precious dog, Mele, to help the army.
The attack on Pearl Harbor affected Nanea deeply, and she becomes more mature and thoughtful in trying to help her community recover. Due to witnessing the planes and hearing about the attacks as they occurred, Nanea is traumatized by the events; she is noted as becoming scared upon hearing thumps and loud noises and upset at the idea of her loved ones leaving her. Despite this, she still works hard to cheer up her family and friends, and do her part to bring peace back to her island.
Her best friends are Lily Suda, her neighbor, and Donna Hill; they refer to themselves as the three kittens and spend all their time together. During the war, Nanea witnesses the racism Lily's family experiences as a Japanese-American and struggles with the fact that Donna and her mother are sent off the island as non-essentials. Following Donna's departure, Nanea becomes hostile to the new student Dixie Moreno, disliking the idea that she could replace Donna or become the new "star student" (a position Nanea considered herself filling), but eventually after a fight she and Dixie learn to understand each other and become friends.
Nanea, as "star student" would imply, is very successful academically and loves going to school, and aspires to be a teacher someday. She is quite an avid reader, with her favorite books being the Nancy Drew series. She is very talented at her hula dancing, including teaching Mele to dance with her in order to entertain soldiers stationed in Hawaii. She also enjoys strawberry-flavored shave ice.
Nanea is very ambitious, often making plans in her mind in order to accomplish her goals, such as wanting to win a bike to prove her maturity and then later trying to prove that Donna is essential in order to keep her from leaving. She can also be very stubborn and selfish at times, getting angry when things don't go her way. But despite this, she is a very caring person, and longs to be a helpful member of her community. She can be very generous, such as when she gives departing tourist children her leis in order to cheer them up. She has imaginative and creative ideas, and is very good at thinking on her feet. When she makes mistakes, she works hard in order to make things right.
Family and Friends
Friends and Other Characters
Books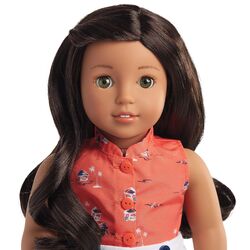 Main article: Nanea Mitchell (doll)
Collection
See: Nanea's Collection
Trivia
See also
References