Jurassic World: Dominion Dominates Fandom Wikis - The Loop
Play Sound
"Nanea" redirects here. For the doll, see Nanea Mitchell (doll).
Nanea Mitchell is the sixteenth Historical Character, and third initially exclusive to BeForever, representing the 1940s; specifically, the entry of the US into World War II after the Pearl Harbor attack and Hawaii's role in the conflict. She was released in 2017.
Personality and Facts
Nanea Mitchell--her first name is Alice, and she goes by her middle name--lives in Honolulu, Hawaii. Her family is racially mixed; her mother is Hawaiian and her father is Scottish-American, making her multiracial. Nanea is very proud of her Hawaiian heritage, with her grandmother she performs hula and studies the history of Hawaii. She is the youngest of three children with an older brother, David, and an older sister, Mary Lou. Nanea is very close with her family--especially her father and her mother's parents. She is close enough to her father to confess when she's done something wrong and ask him for his advice; in turn he understands her intentions and desires to help and shows her how to do her best. Nanea at the start of her stories struggles with being seen as the baby of the family and wanting to appear more mature--partially because Mary Lou often treats her as if she is too young and immature. The two shares a room and while they don't always get along, they share the same taste in music.
Nanea's family has extended relationships beyond blood ties which include her Japanese neighbors, the Suda family. She is best friends with their daughter Lily Suda and with a third friend, Donna Hill, they call themselves the Three Kittens and spend much of their time together when they can. Nanea prides herself on being a star student and one that assists her teacher often. She does well in school and wants to be a teacher. Nanea is very ambitious, often making plans in her mind in order to accomplish her goals--whether realistic or not. She can be very stubborn and selfish at times, getting upset or angry when things don't go her way. She has imaginative and creative ideas, and is very good at thinking on her feet--but can be impulsive and does not always think before she acts. When she makes mistakes, she works hard in order to make things right.
After the Japanese attack on Pearl Harbor--which Nanea experiences much of firsthand--Hawaii is placed under martial law. These events traumatize Nanea, and she becomes afraid of loud noises and being away from her family in fear they'll be hurt. Various precautions are enacted, such as having to carry gas masks and identification cards regardless of age. Furthermore, many locations are damaged around the city. Suspicions about the Japanese lead to prejudice against Lily's family, and later Donna's family has to to temporarily move to the mainland as only essential people and their families may remain. After the attack Nanea feels she must mature too quickly, and wishes things were like before. Over the course of her stories she becomes closer with those she loves as well as her cultural traditions, and learns to sacrifice personal desires and wants to assist others. She becomes more mature and thoughtful in trying to help her community recover and works hard to cheer up her loved ones and do her part to bring peace back to her island.
She is an avid reader and her favorite books are the Nancy Drew series. She is very talented at her hula dancing, including teaching Mele to dance with her.
Nanea's favorite flavor of shave ice is strawberry.
Family and Friends
Friends and Other Characters
Books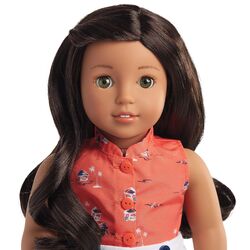 Main article: Nanea Mitchell (doll)
Collection
See: Nanea's Collection
Trivia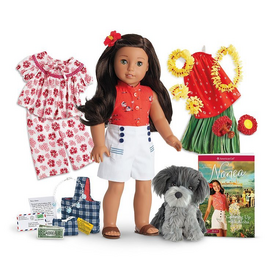 See Also
References