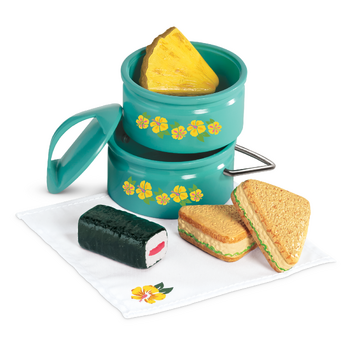 Nanea's School Lunch was introduced to Nanea's Collection in 2017. The retail cost is $25.
Lunch Pail
Stackable plastic aqua lunch pail with bottom and top sections. Silver metal handle is attached to bottom piece and clicks into place on lid. Lid has small handle, but it is very difficult for doll hands to hold it. Bottom and top sections have printed hibiscus pattern in yellow, pink, and green. All items in the set can fit inside pail.
Sushi Roll
Plastic seaweed-wrapped sushi roll. Ends of roll reveal white rice and pink filling.
Sandwiches
Two plastic brown bread sandwiches sliced into triangles. Sandwiches contain yellow and green fillings- likely egg salad or cheese with lettuce.
Pineapple Slices
Two plastic pineapple slices connected together. Yellow pineapple pieces with brown edges and brown accents.
Napkin
Cloth napkin with stitched hem on edges. A yellow, orange, pink, and green hibiscus flower is printed in one corner of napkin. Flower matches pattern on side of lunch pail.
Community content is available under
CC-BY-SA
unless otherwise noted.