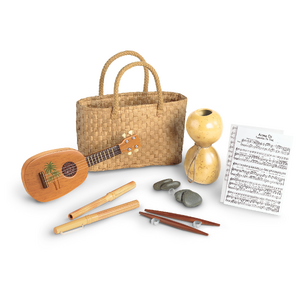 Nanea's Hula Implements was introduced to Nanea's Collection in 2017. The retail cost is $35.
Lauhala Bag
Lauhala bag made of faux hala tree leaves. Rope handles are stitched on the outside for carrying.
Ipu Gourd
Plastic ipu gourd to use as a drum. Light yellow with brown paint accents. Gourd is open on one end so sounds echo. Twine knotted around middle of gourd so drum can be held.
Kala'au Sticks
Two plastic kala'au sticks. Sticks are brown and have clear plastic rings to fit onto doll fingers.
Pu'ili Sticks
Two plastic bamboo pu'ili sticks with clear plastic handles for doll hands. Ivory plastic with painted brown accents. Sticks are open at end.
'Ili 'Ili Stones
Two plastic 'ili 'ili river stone sets. Gray plastic with black speckled dots. Contains four stones total; stones are grouped in sets of two. Each set has a clear plastic ring to fit onto doll fingers.
Ukelele
Battery-operated plastic ukelele with button on back to play pre-recorded music. Four plastic strings and brown plastic ukelele body with two palm trees printed on it. Music comes from speaker where sound hole normally is. Ukelele neck has plastic handle for doll to hold.
Music Sheets
Two music sheets for Aloha Oe.
See Also
Community content is available under
CC-BY-SA
unless otherwise noted.