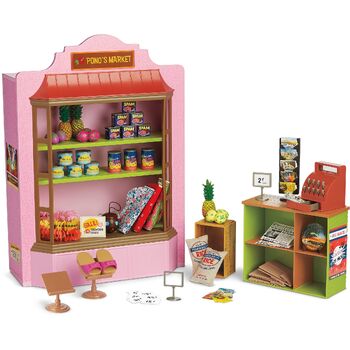 Nanea's Family Market was introduced to Nanea's Collection in 2017. The retail cost is $250.
Store
Counter
Cash Register
Orange plastic with silver keys.
Money
Fifteen Hawaiian overprint bills.
Leis
Pink, yellow, and orange fabric flower leis.
Fabric
Fabric bolts with the fabric from Nanea's School Outfit, Nanea's Island Swimsuit, and a red fabric with white flowers.
Open/Closed Sign
Red, white, and blue sign. Folds into a triangle.
Price Tags
Price Holders
Newspapers
Three Honolulu Star Bulletin newspapers from the 1940s.
Slippers
Black faux leather cross-strap sandals.
Shoes
Plastic "wooden" soled shoes with pink straps.
Shoe Stands
Purse
Plastic souvenir coconut purse with painted face.
Plate
Souvenir plate with palm tree and beach scene.
Display Stand
Brown plastic plate stand.
Shopping Bags
Three brown paper bags labeled "Pono's Market" in pink.
Postcards
Fifteen total postcards. Three each of surfers, Rainbow Falls, The Capitol in Honolulu, "Greetings From Hawaii" with palm tree, and "Aloha Hawaii" with lei.
Display Rack
Black plastic display stand with five slots to hold postcards.
Produce Crate
Plastic faux wood crate labeled "Pineapple."
Spam
Six plastic cans of SPAM.
Pineapples
Three plastic pineapples.
Mangoes
One clump of four purple and green marbled mangoes.
Dragon Fruit
Two clumps of three yellow dragon fruits and pink dragon fruits.
Macadamia Nut Cans
Five plastic cans labeled "Hawaiian Macadamia Nuts."
Pineapple Cans
Three plastic cans labeled "Hawaiian Sliced Pineapple."
Rice Bags
Two fabric bags of rice.
Posters
Eight sticker posters: Grow Your Own For Victory, USO Dance, Get in the Scrap, Honolulu Helpers, Aloha Hawaii, Pono's Market Weekly Specials, Hula Lessons, and Lost Dog.
Community content is available under
CC-BY-SA
unless otherwise noted.