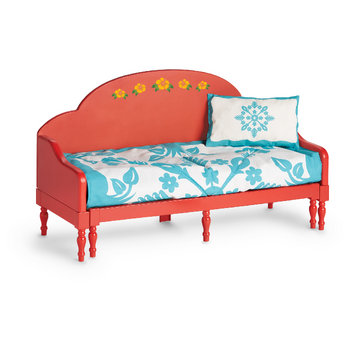 Nanea's Bed and Hawaiian Quilt were introduced to Nanea's Collection in 2017 and retired in 2020. The retail cost is $95.
Bedframe
Light red plastic daybed frame. Yellow, pink, and green hibiscus flower pattern on back of frame. Brown plastic slats support mattress. Bottom of bed slides out to fit two dolls.
Mattress
Blue cotton mattress that folds to fit on daybed and unfolds for full bed.
Quilt
Blue and white cotton quilt with floral pattern that folds over mattress for daybed. Triangular stitching at corners and circular stitching patterns in white area of quilt.
Pillow
Rectangular white and blue cotton pillow with pattern to match quilt. Circular stitching patterns in white area of pillow.