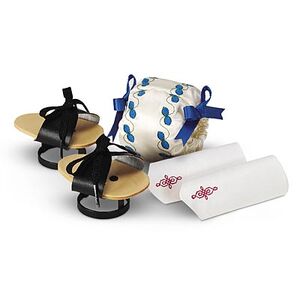 The Muff, Mitts and Pattens (also known as Felicity's Muff, Mitts and Pattens) was introduced to Felicity's Collection in 1992(?) and retired in 2007. It is associated with the book Changes for Felicity and completed with the Cardinal Cloak. Retail cost was $16 and was later increased to $20.
Muff
Cream-colored satin muff. Trimmed with two blue ribbons and blue accents.
Mitts
Embroidered white mitts. Velcros on bottom.
Pattens
Pattens made of wood and metal with black string to tie onto Felicity's shoes.