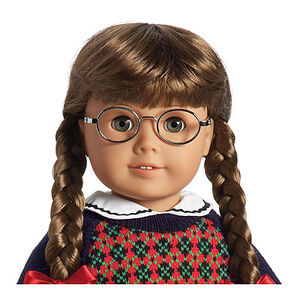 The
Molly McIntire
doll was released in 1986, along with
Kirsten Larson
and
Samantha Parkington
. They were American Girl's first three
Historical Characters
. Molly was
retired
along with
Emily Bennett
in 2013.
Molly was rereleased for BeForever in 2018, exclusively via Costco. This set was also briefly sold on American Girl's site in 2019.
Molly Doll
Skin: Light
Hair: Light Brown, straight, bangs, comes styled in two pigtail braids.
Eyes: Gray
Meet Outfit
Classic Meet Outfit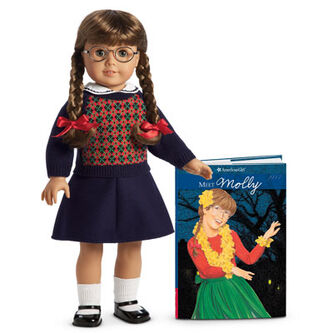 Molly's meet outfit is a 1940s style. Like Kit's outfit, it reflects the need for versatility in one's wardrobe during a time when money was tight and outfits had to have more use. As with much of Molly's clothing, it follows a red, white and blue theme.
Sweater
Navy blue knit sweater. with a navy blue, red, and green argyle pattern knitted on the front.
Skirt
Navy blue wool skirt.
Dickey
White dickey collar with blue rickrack trim. This is in place of a full shirt under her sweater.
Socks
White ankle socks.
Shoes
Black plastic Mary Jane slip-on shoes. Her shoes are identical to Samantha's and Nellie's.
Hair Ribbons
Molly's braids are tied off with red ribbons at the end.
Glasses
Silver glasses with round frames. They have been changed twice. The first change in the late 1990s was to the arms - rather than curving down like real glasses, they became straight. The second change, in the mid 2000s, was to the shape of the frames: they are no longer perfectly circular. They come in a red soft slipcase with a white, elastic that can fit around her wrist.
Underwear
White cotton bloomer style underwear. While authentically Molly would have had ties on the side to hold them up (rubber was being reserved for war materials), the elastic makes for ease in wearing.
BeForever Molly and her new meet outfit were exclusively available in a Costco set in 2018. The set included the doll, accessories, pajamas, and a book for $119. This set was briefly sold on American Girl's site in 2019 for $125.
Sweater
Dark blue sweater with red buttons in the front and a blue ribbon at the top of the collar. The buttons are non-functional; the sweater closes in the back with velcro. Sweater also features an argyle pattern in the knitting on the front, with white showing through the holes.
Skirt
Navy, red, and white plaid skirt. Skirt has pleats in the front.
Socks
White ankle socks.
Shoes
Red and white saddle shoes with red laces. Light brown rubber soles.
Ribbons
Molly's braids are tied off with red ribbons at the end.
Glasses
Brown plastic glasses with round frames.
Underwear
Plain white panties like Maryellen and Melody.
Meet Accessories
Classic Meet Accessories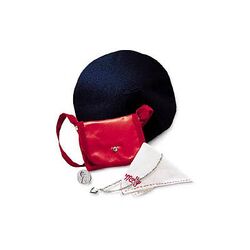 Beret
Navy wool beret.
Bag
Shiny red vinyl-like bag with a long cloth strap and a snap.
Embroidered Handkerchief
White cotton handkerchief, trimmed in red. Molly's name is monogrammed in red.
Steel Penny
Molly's coin is a replica 1943 steel penny; during the war, pennies were not made of copper due to shortages. Originally, this was an authentic coin.
Silver Locket and Photo
Silver heart-shaped locket on a matching chain with space for her dad's picture, which is included.
These were exclusively available in the BeForever Costco set, which included doll, accessories, pajamas, and book for $119. The accessories were basically the same as the original accessories, just with minor appearance changes.
Beret
Red wool beret.
Purse
Red vinyl bag with long vinyl strap. The vinyl is matte rather than shiny (unlike Molly's historical purse). It has a faux snap on the front of the bag, but actually closes with velcro.
Dollars
Two 1-dollar bills. However, these bills are designed like modern-day bills, not the ones Molly would have used in 1944. In 1957, "In God We Trust" was added to the back of the bill. A floral border design was added to the front of the bill in 1963. Both of these features are seen in the bills in the accessory set.
Necklace
Silver heart-shaped locket on a matching chain. The locket has a design on the front with the Great Seal of the United States.
The matching outfit was available and sold as the Sporty Separates; it was retired around 2000.
Blouse: $26
Skirt: $30
Sweater: $40
Locket: $20 (sold as Molly's Sterling Locket)
Beret: $10
Knee Socks: $8
White bodied Molly dolls have a white muslin cloth body; both Mattel and Pre-Mattel Mollys have matching cloth bodies.
The eyes are more gray hued in a White Bodied Molly.
BeForever Molly dolls have feathered-styled eyebrows while older versions have the thinner line brows.
Trivia
In the books, Molly is described as having brown eyes, but the doll was given grey eyes. The same thing happened with the Ruthie Smithens doll. No official reason was given for the discrepancy, though it can be assumed that this was to further differentiate Molly from Samantha at the start of the line, as both dolls share a similar hair color.
Community content is available under
CC-BY-SA
unless otherwise noted.