Jurassic World: Dominion Dominates Fandom Wikis - The Loop
Play Sound
"Molly" redirects here. For the doll, see Molly McIntire (doll).
Molly McIntire is one of the first three Historical Characters, representing the late World War II Era. Molly was released in 1986 at the launch of Pleasant Company along with Samantha Parkington and Kirsten Larson.
In June 2013 American Girl announced that they would archive Molly's entire collection; she, Emily Bennett, and their collections were archived in December 2013. Molly's books and the movie remained available for purchase.
In summer 2017, booksellers released information indicating Molly's books would be re-released as part of the BeForever collection. In November 2017, the official website for American Girl Publishing indicated a new mini doll would be released also. The rereleased books and mini-doll were released February 2018; a preview of the potential BeForever Doll was also released inadvertently on the official site, but soon taken down. The BeForever doll was confirmed for sale when the doll was released in fall 2018 exclusively through Costco distribution. It was otherwise not widely available through American Girl stores or their website outside of sales.
Molly and parts of her original collection were rereleased in 2022. She is also part of the 35th Anniversary Special Edition Rerelease.
Personality and Facts
Molly comes from a Scottish-American family and lives in the fictional town of Jefferson, Illinois. She often comes up with various plans to draw attention to herself; several times these plans and ideas are either wholly unrealistic or fall through.
To Molly, World War II is mostly a distant inconvenience in her daily life; it is only when she is introduced to Emily Bennett that she sees that the war is truly affecting other people.
She is not very good at math (especially multiplication), dislikes turnips, and is afraid to swim underwater. She struggles with her looks later in the series as she wants to look different, with curls instead of straight hair. She often believes her hair to be like "straight sticks" compared to her teacher Miss Campbell. She frequently becomes set on becoming a "New Molly." Molly and her friends greatly admire their teacher, Miss Campbell, and like thinking about her love life.
Molly is a great tap dancer. In the book, she was the best dancer in her class, even better than Alison. In the movie, she struggles and copies Alison and later becomes the best in her class. She also enjoys camp songs.
Molly misses her father very much. Even though she loves her parents, she often finds it hard to get along with her siblings, often getting into disagreements. Molly also finds it hard to get along with Alison, and even Emily Bennett at one point in the story because of their differences. She can be mean, especially to Alison, and finds it hard to be nice to her. She always wants to be original, and is obsessed with glamour, especially from England. Molly finds it especially hard to be a follower, as was evident in Molly Saves the Day when she envied Dorinda for being the team captain.
Molly is a big schemer, often the ring leader when she and her friends make plans. Molly's mom calls her a chatterbox, in comparison to Emily. She is prone to daydreaming and fanciful ideas.
American Girl characterizes her as "lively" and "lovable." On the original personality quiz, she is described as "feisty." Americangirlpublishing.com also characterizes her as "patriotic", and American Girl e-cards describe her as "fun" and "cheerful."
Family and Friends
Family
Friends and Other Minor Characters
Books
Other Media
Movie Books
Main article: Molly McIntire (doll)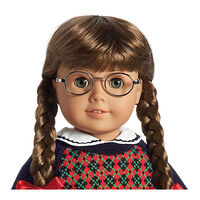 Skin: Light
Hair: Brown
Eyes: Gray
Collection
Trivia
Molly was the first character and doll to be marketed with glasses, and the only one until the release of Z as part of the contemporary line; however unlike Molly, Z's glasses are sold separately.
Molly's Central Series books had the most illustrators with three: Chris Payne for the first three, David Gaadt for one, and Nick Backes (the last two, before he then redid the first four).
Molly's address is 467 Oak Street, Jefferson, IL. (At the time, ZIP Codes did not exist.)
With the release of Nanea Mitchell, she is the only character to explicitly share an era with another character outside of Marie-Grace Gardner and Cécile Rey who were released simultaneously. However, Nanea's series take place chronologically prior to Molly's. Molly's books take place two years after the US had officially entered World War II, while Nanea's cover the event that led to the US's formal entry into the war.
Molly's books are classified as 1944 on covers, but her series has the first book set in 1943.
Molly's BeForever items were primarily available through Costco stores in fall 2018. Her Costco set and the new individual clothing pieces were sold in occasional sales on American Girl's site in 2019 and 2020.
Although Molly was never officially released as a BeForever character, American Girl developed a logo for her for the historical line's rebranding back to "Historical Characters" in 2019. Initially this did not appear on American Girl's main site; instead the company released it on the American Girl Publishing website. It was first used for the 35th anniversary doll and for Molly promotions after 2021, including the 2022 rerelease.
See also
References
BeForever-Revised and Released Historical Characters
1760s
1770s
1810s
1820s
1860s
1900s
1910s
1930s
1940s
1940s

Molly McIntire ♦ ★

1950s
1960s
1970s
★ Archived | ♦ Re-released for BeForever | ♥ First Released in BeForever