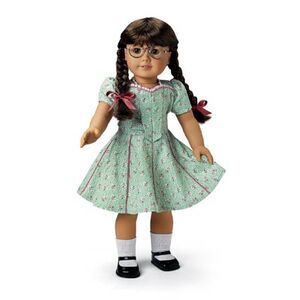 Molly's Victory Garden Dress was introduced to Molly's Collection in 2003 and retired in 2005. It is associated with the short story Molly's Puppy Tale. Retail cost was $24 and later raised to $26.
Dress
Light green dress with pink and white floral print. Waist sash that ties in back. Pink trim along skirt pleats and collar. White lace trim at neckline. Velcros up the back.
Ribbons
Two dark pink hair ribbons.
Trivia
In 2003, the dress and short story were available together for $26.
See Also