Molly's Route 66 Adventure is part of Molly's books, tied to the Travel Scrapbooks.
Series Characters
Scrapbook Summary
Jill McIntire gives Molly a scrapbook to document her trip down Route 66 to California. Jill is the only member of the family not going as she is volunteering as a candy striper at St. Mary's Hospital. With the war over, travel has become popular again (as there is no more gas rationing) and Molly's father is taking the family on a journey down the route.
Molly starts the scrapbook complaining about riding in the backseat between her brothers. She later picks up a map, decal, and decoder at a Royal Oil filling station; the stations are giving away items to encourage purchase. Collecting clues at each station along Route 66 and decoding them will win participants an autographed picture of Judy Garland, which Molly decides to try and get. Mom says that they must go to the home and tomb of Abraham Lincoln in Springfield. Molly rubs the nose at the entrance for good luck in winning the contest. They also go to the Illinois State Fair.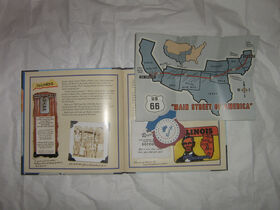 They cross the river at the Chain of Rocks Bridge and go into Missouri, where they stop at the Meramec Caverns. The family then goes camping. That evening, Ricky puts a rubber snake in Molly's sleeping bag. Molly vows to get him back. The family stops for lunch in Carthage where the waitress tells them that Belle Starr used to live in the town. Ricky pesters Molly, who draws a line and tells him to stay on his side.
The route only goes briefly through Kansas; while there, the air raid siren comes on as a tornado is near. The family pulls over to the side when the rain becomes bad, and they lie down in the car until the rain stops.
The kids are excited when they cross the border into Oklahoma, hoping to see a "spooklight." They stop at Galloway's Totem Pole Park, which will have the world's tallest totem pole at 90 feet. Molly is not impressed as she knows that Southwestern Indians didn't make totem poles. They continue on and stop at the Will Rogers Memorial. Near Tulsa, Mom and Dad offer them the chance to see a movie either in a standard theater or a drive-in; the children choose the drive-in. They attend a rodeo, and Molly gets a cowboy hat.
Molly finds Texas big and long; she gets a postcard to try and spot animals, but feels it is too hot for the animals. They pass a reptile ranch but don't stop. Mom suggests car games, but Molly is not interested. She only enjoys the Burma-Shave signs on the side of the road. Molly and Ricky find a desert tortoise outside Amarillo. The family stops at the Road Runner Restaurant and Soda Grill. There is a poster asking women to stop working now that the war is over; Molly doesn't find this fair.
In New Mexico (which Molly thinks of as Old Mexico, due to the high Spanish-speaking population), Molly gets Ricky back for the rubber snake. They stop at a desert swimming hole, and Ricky leaves his clothes behind showing off; Molly steals them. They pass through a town holding a fiesta, and Dad buys Molly a milagros. The family stops at the Acoma Pueblo and Sky City. They arrive at the time of Gallup in time for the Inter-tribal Indian Ceremonial. Molly makes friends with a Navajo girl who is dressed up for the festival, and when Molly mentions that she would like to wear her "outfit" the girl informs her she only wears the outfit for festival and dresses like Molly on most other days.
The family goes to the Painted Desert, the Petrified Forest, and Meteor Crater. They take a side trip off Route 66 to go to the Grand Canyon, and stay at the Bright Angel Lodge. The next day, they take a mule ride into the Canyon; Ricky starts goofing off and slides off his mule, slipping down a drop off before the guide pulls them up. Molly originally fears that Ricky has fallen to the bottom.
Dad takes them off course again to go to Nevada and see the Boulder Dam; after that, they continue to California and across the Mojave Desert to Santa Monica. Once they arrive at the Santa Monica Pier, Molly gets out of the car and into the water, even tasting it. There is a carousel that Molly rides twice. Once they get to Hollywood, they stop at Grauman's Chinese Theatre to see the footprints. Molly has gotten all her clues right to spell the message "THERE'S NO PLACE LIKE HOME" and gets the prize of a signed picture of Judy Garland.
Souvenirs Inside
Most items are reproductions of authentic items.
Royal Oil Holly Wood Mystery Code Contest Decoder (inside pocket)
Non-removable unfoldable map of Route 66
Non removable set of three postcards from Meramec Caverns with Molly's writing on the back
"Ranger 'Rithmetic" (inside pocket with Missouri)
Bandit mask and reward poster for Belle Starr (inside pocket with image of diner)
Non-removable Road Runner Restaurant and Soda Grill
Clines Corners brochure (in pocket decorated with Native symbols)
Cardstock milagros (in clear pocket)
Items Associated with Molly's Route 66 Adventure
See Also
References and Footnotes
Community content is available under
CC-BY-SA
unless otherwise noted.