Molly's Puppy Tale is part of the Short Stories collections, focusing on Molly McIntire. Retail cost was $4.95.
Characters
Story Summary
Meet The Author
The "Meet The Author" section discusses Valerie Tripp's dog, Sunday, and relates to how frisky he is, just like Molly's dog, Bennett.
Looking Back: Dogs in 1944
Discusses the role of dogs during World War II. Topics covered:
Activity: Make Dog Treats
The Activity explains how to make waffle-shaped dog biscuits.
Items Associated with Molly's Puppy Tale
Trivia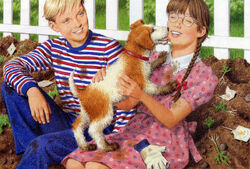 References
↑

The story takes place in May; Molly's birthday is in April.