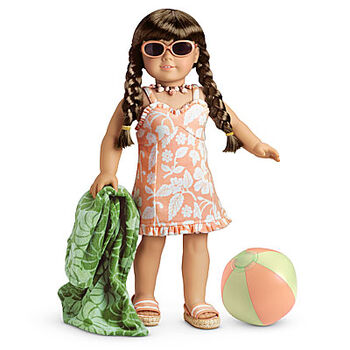 Molly's 1944 Swimsuit was introduced to Molly's Collection in 2005 and retired in 2013 with Molly's archival. It was complimented by Molly's Beach Chair. Retail cost was $34.
Swimsuit
Salmon and white floral print swim dress with attached bottoms. Ruffles at skirt hem and top. Velcros up the back.
Shoes
White and salmon espadrille slip-ons.
Sunglasses
Salmon oval sunglasses.
Necklace
Seashell necklace. Magnetic clasp.
Towel
Green and white terry cloth floral print towel.
Beach Ball
Inflatable salmon and green beach ball.
See Also