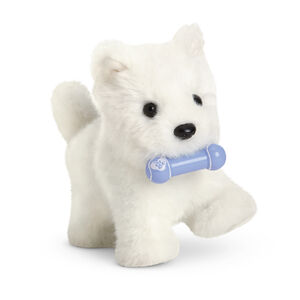 Modern Style Pets are small four-legged pets released for the American Girl of Today, Just Like You, My American Girl, and Truly Me line.[1] These are distinct from the Historical Character Pets or pets for Girls of the Year as none of them are specifically tied to any character, and mostly refer to pets that have been connected to or similar to Coconut.
List of Modern Style Pets
Items for Modern Style Pets
Along with the pets, various pet accessory and dress sets have been released. Originally (with Coconut and Licorice) sets were frequently based on modern outfits and more like costumes. Later this was toned down, and sets were designed to more resemble realistic pet accessorizes such as beds, collars, and leashes. With the 2014 revamp, items both resembled realistic pet items (including items for disability representation) and imaginative pet costumes.
Note that these are usable with most pets of a specific body shape at the time of release, but are not interchangeable across i.e older outfits from pre-2012 are unlikely to fit newer shapes from 2014 forward.
Timeline of Modern Style Pets
2000: Coconut is released for the American Girl of Today Line, following Baxter the Bunny in 1996 and the unnamed 1997 Husky Dog (connected to the Dogsled).
2003: Licorice is released. She is shaped to share Coconut's clothing and accessories interchangeably.
2009: Coconut is given another update. Licorice is retired. Ginger, Sugar, and Honey are released. All four pets came with a collar and pet journal, and the price rises to $22.
2010: Two new pets, Pepper and Praline, were released. The price is lowered back to $20 after journals are removed.
2011: Two new pets, Chocolate Chip and Toasty, were released.
2012: Sugar, Toasty, Ginger, and Praline are retired from the lineup. Chocolate Chip is bundled into the Service Dog Set and made unavailable as an independent purchase. Licorice was given a rerelease and a redesign. One new pet, Meatloaf, was released.
2014: Coconut is given another update; the magnet to hold toys near the mouth is returned, and pets are jointed and semi-posable. All still available named pets are retired with the exception of the dog in the Service Dog Set. All pets come with the American Girl star embroidered on the back left foot and a bone toy.[3] The new pets other than Coconut are not given names and as are follows:
Himalayan Kitten
Dalmatian Puppy
Corgi Puppy
Apricot Poodle Puppy
Chocolate Lab Puppy
Prices for all Coconut pets were raised to $28. Dress-up sets for pets were also released, and older items were mostly retired.
Three pets are released in Warehouse style stores: The Fancy Pomeranian, Preppy Sheepdog, and Funky Terrier. These come with unique accessories, toys, and an additional color-in playset.
2015: The Preppy Kitten and later, the Fancy Cocker Spaniel are released in the big-box style. The Terrier Puppy is released.
2016: Coconut is retired. The Pomeranian Puppy is released. The Funky German Shepard is released. The Corgi Puppy is retired.
2017: The French Bulldog and Tuxedo Cat are released. The Scottie Dog, along with re-releases of the Gray Cat (Preppy Kitten) and Sheepdog (Preppy Sheepdog) in new pets sets in the big-box style. The Wheaten Terrier Puppy is released.
2019: The Husky Puppy is released.
2020: The Orange Tabby Cat is released.
Pets on Clothing
Pets have featured prominently on several articles of clothing for the modern line. Not including Coconut outfits, the following items have had pets on them:
Trivia
For a while, Coconut and her named friends were given no gender specification so that the owner was free to decide on the gender of their pet. However, it could be assumed for some pets. Sugar, Coconut, and Honey had pink accents such as a collar or bow. Ginger and Praline had purple collars. Chocolate Chip had an orange collar. Pepper, Toasty, and Meatloaf had blue collars of varying shades. With the redesign in 2014, Coconut was explicitly identified as female again, but no other pets are given a gender or any identifications.
Pepper, Chocolate Chip, and Meatloaf are the only pets that were explicitly identified by American Girl as males.
References