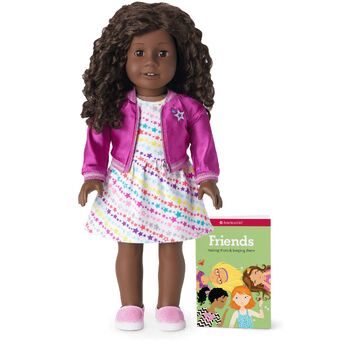 The Modern Character Meet Outfit (known variously as the American Girl of Today Meet Outfit, Just Like You Meet Outfit, My American Girl Meet Outfit, and Truly Me Meet Outfit) is the outfit an American Girl of Today, Just Like You, My American Girl, or Truly Me doll arrives in.
Although Modern dolls do not have stories of their own by the company, the same term is used as for Historical Characters for convenience. The meet outfit generally changes every two years to follow the changes of modern fashion for children.
In 2010, codes were bundled with My AG meet outfits for use on Innerstar University before the site was discontinued.
Accessories
Each outfit has a set of matching accessories that is sold with a doll at a discount when bundled.
Originally, accessories maintained the same components, much like the Historical Characters' meet accessories. As time has passed, however, the components have changed and only a few items have remained standard, namely the miniature $1 notes and the bag or purse. Older items included a miniature American Girl Magazine, library card and a piece of jewelry.[1]
In 2008, the Star Hoodie Outfit was paired with the Phone and Charms Set as an accessory.
In 2010 no accessories were sold separately.[2]
Starting with the Lilac Dress meet outfits were paired down to simple components and accessories included components to expand the look of the meet outfit. Starting with the Truly Me Outfit, they included a smartphone.
List of Modern Meet Outfits
At this point, the line was renamed "Just Like You."
At this point, the line was renamed "My American Girl"
At this point, the line was renamed "Truly Me".
In 2018, with the release of boy dolls, a boy's meet outfit was released.
List of Modern Meet Accessories
This set was not specifically sold as accessories for the Star Hoodie meet outfit.
References
Community content is available under
CC-BY-SA
unless otherwise noted.