For the modern mix and match outfit collections, see Modern Mix and Match Sets. For the Bitty Baby set, see Mix and Match Outfits.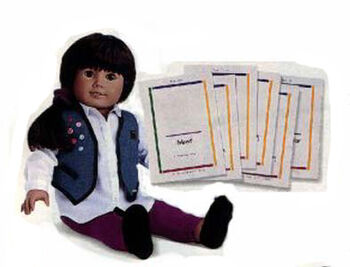 The Mix and Match Outfit was the first meet outfit for the American Girl of Today line. It was introduced with the debut of the line in 1995 and shortly replaced by the First Day Outfit in 1996.
Outfit
This outfit has several variations due to manufacture by different factories. It was not generally available for purchase separately as it was offered with the first dolls in the line; however, for a short time the outfit was offered during a clearance sale in limited quantities.
Shirt
Oversized white button down oxford style shirt. Five small white buttons; four placed to look as if shirt is buttoned, and one at collar. Velcro at wrists. Some shirts have working buttons or snaps at front, but most shirts close with velcro.
T-shirt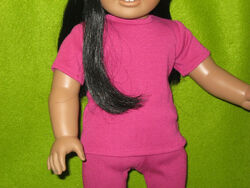 Short-sleeved magenta t-shirt. Velcros up the back.
Leggings
Knit magenta leggings. Elastic waist.
Vest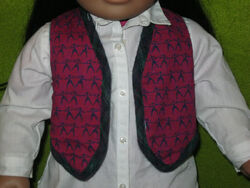 Denim and print reversible vest. Plaid trim at edge. Denim side has AGoT logo patch on left breast and plaid faux pocket flap on right. Print side has AGoT logo on magenta print with orange swirls.
Shoes
Black suede velvet ballet flats. Ribbon trim. Black sole.
For a period of time, some dolls came with plastic Mary Jane shoes like Samantha's and Molly's because of manufacturing defects with the black suede flats. Dolls were packaged with a card explaining the issue and offering a free replacement to be sent after February 1, 1996 (around the release of the next meet outfit, the First Day Outfit).
Scrunchie
Magenta hair scrunchie.
Underpants
Magenta underpants. White elastic waistband with white bow trim. Serged edges. Made of the same fabric as the shirt and leggings.
Mini Grin Pins
Ten mini Grin Pins.
Book Writing Kit
Six-book writing set in the design of the Historical central series.
Accessories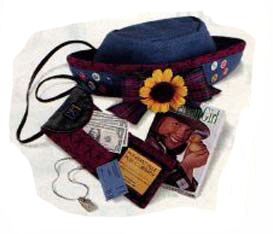 The accessories, sold as the Girl of Today Accessories, were available as a separate purchase for $20 or in a bundle with the doll for a slight discount.
Hat
Denim bucket style hat. Plaid trim. Lined with AGoT print in the brim. Front has attached plaid bow and sunflower.
Necklace
Silver necklace with AGoT girl logo pendant.
Magazine
Miniature copy of the March/April 1995 edition of American Girl Magazine.
Dollars
Three miniature $1 notes.
Card
Yellow paper library card. Text:
Pleasantville Public Library
Name: ______________________
Present this card each time you borrow materials.
100 First Street
Pleasantville, USA
Tickets
Blue lunch ticket card. Two detachable tickets. Line for writing name.
Purse
Black wallet purse. Crackled vinyl. Clear pocket for ID card. Internal pockets. Lined with AGoT print (like on vest reverse). Thin shoulder strap. Snap closure.
Mini Grin Pins
Ten mini Grin Pins.
The child-size outfit was available:
Great White Shirt: $18 (later increased to $20)
AG T-Shirt (long sleeved shirt with AG Logo): $14
In-Vest: $28
Love'Em Leggings: $12
Funday Hat: $12
Community content is available under
CC-BY-SA
unless otherwise noted.