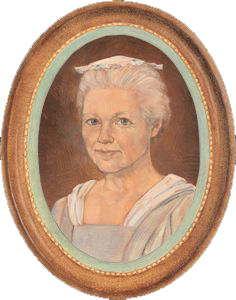 Miss Manderly is the teacher of Felicity Merriman, Elizabeth Cole, and Annabelle Cole.
Facts
Relationships
Personality
Miss Manderly is the teacher of Felicity and is a gracious gentlewoman. She is also very lady like.
In the Books
Elizabeth mentions it was Miss Manderly who arranged for the invitation to the Governor's Palace, having known the dancing master who taught the governor's children. Miss Manderly receives a basket of Shrewsbury cakes as a thank-you gift from Felicity and Elizabeth for the dance invitations and says the cakes are lovely.
Miss Manderly is briefly mentioned as having given her students, including Felicity, a journal to practice penmanship and handwriting.
Miss Manderly appears as a younger woman around Mother's age, rather than an elderly woman as portrayed in the books.
Miss Manderly was played by Janine Theriault.
Community content is available under
CC-BY-SA
unless otherwise noted.