Miscellaneous Products are American Girl products and books series that are not associated to any of their major lines.[1]
The majority of these lines are currently retired through American Girl.
American Girl Retired Lines
Wild at Heart Series

(also known as Vet Volunteers)
Currently Active Lines
Previously Licensed Lines
Angelina Ballerina
Angelina Ballerina had licensed products through American Girl from 2001 to 2004 which focused on small jointed-plush dolls, clothes, and accessories. They were based on the Angelina Ballerina book series. Books are now published by Simon and Schuster and licensed products are available through various markets.
Amelia's Notebooks
Amelia's Notebooks by Marissa Moss was published in collaboration with American Girl starting approximately in 1998 (with the first four books being reprinted from Tricycle Press). Amelia excerpts appeared in American Girl Magazine, and American Girl also released various products (listed at "Miscellaneous Products" on the Amelia's Notebooks Wiki[2]). These included:[3]
Messenger bag
Cap
Amelia T-Shirt
T-Shirt (different version)
Denim Jacket
My Life scrapbook
"Amelia's Moving Pictures" animated feature
Amelia's Card Game
Your Notebook (with help from Amelia) (video game from Brøderbund Software)
Pins (similar to Grin Pins)
Magnetic Bulletin Board
Lunchbox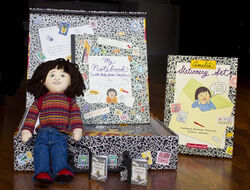 The Doll and Kit included a ten-inch rag doll of Amelia, My Notebook (with help from Amelia), Amelia's Easy-as-Pie Drawing Guide, Amelia's Stationery Set, a friendship frame, a pencil case with various items, a multi-color pen, a set of twelve markers, and a sheet of stickers.
A website, Amelia's Desktop, was run by American girl until 2005.
The collaboration with American Girl ended by about 2003. The series ended in 2015, and continue to be republished through Simon and Schuster and are available via various markets.[4]
See Also
References