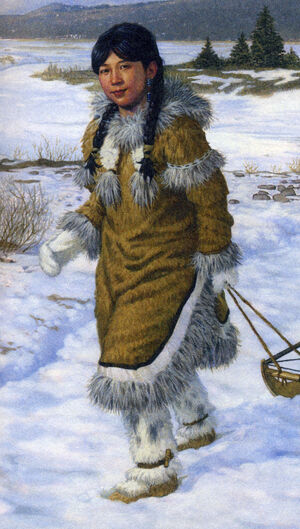 Minuk was one of the Girls of Many Lands, representing Alaska during its time as an early American territory and the arrival of American missionaries. Minuk was released in 2002 along with Isabel Campion, Cécile Revel, Chou Spring Pearl and Neela Sen. She is the primary character of Minuk: Ashes in the Pathway.
Personality and Facts
Minuk is a twelve year old Yup'ik girl living in what was then the newly-American owned Alaskan Territory in 1890. She is very curious, always likes to learn new things and enjoys making up stories. She is a fast learner, and Mrs. Hoff has noted that Yup'ik children are taught to concentrate hard so they absorb information quickly.
She is pretty open-minded about life and doesn't mind accepting American culture with her own. She finds a fascination with the new American settlers and begins working for them as a seamstress.
She is not fond of either society's views on women. She often doesn't like that the Americans won't teach girls to read and write or that women have to wear corsets. In her own village, she doesn't like that women have to bathe in mud and are considered unclean and can't look a man in his eyes.
Book
Minuk: Ashes in the Pathway by Kirkpatrick Hill.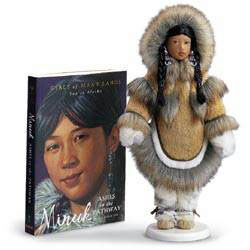 The Minuk doll was intended for display only. Her black hair came in two front braids and she had dark brown eyes. The components of her outfit were:
Hooded light tan fur parka (japaq) with dark grey/brown fur trim, brown leather trim, white fur trim, and black stitch work
White fur mittens (aggajaak)
Tan trousers (qalliik) with leather waist tie
White fur boots (tipsaluq) with leather ties and "sealskin" bottoms (the boots are two separate pieces, top and foot)
Blue, red and white beaded dangle earrings
Community content is available under
CC-BY-SA
unless otherwise noted.