These are minor characters in the Joss Kendrick books.
Coach Kara
The coach of the cheerleading squad that Joss joins at Shine Athletics. She is willing to work with Joss's hearing loss, so she wears a microphone that connects to Joss's hearing aid and she adds gestures for timing during dance routines.
Sofia Goto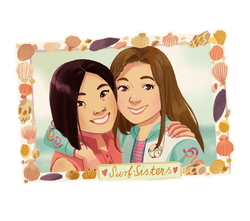 Joss's best friend. She has shiny black hair cut in an "edgy" bob. She and Joss call each other "Surf Sisters".
She is a surfer and is more graceful, leaning towards more technical tricks. Her mother, Mrs. Goto, owns a board shop; this allows Sofia to have newer boards as they come out. Sofia is also an artist and enjoys beachcombing and turning what she finds along the beach into works of art. She sometimes forgets to face Joss when she's excited or not thinking, which means Joss can't understand her.
She initially encourages Joss to try out for cheerleading to push Dylan to assist them with the contest by lending Joss his action camera. She believes cheerleading to be less of a sport than surfing and that Joss will not pursue interest in it. She does not understand or communicate her frustration with Joss's growing enjoyment of cheerleading and is highly disappointed when Joss keeps it up, in part because Joss neglects spending time with her due to her new schedule (and takes this as Joss abandoning her and surfing for her new hobby and friends). Only after she and Joss talk things out and communicate does Sofia ends up very supportive of Joss's new interest.
Ms. Goto
Sofia's mother and the owner of a board shop, SoCal Board Shop.
Harper
A classmate and friend of Joss and Sofia. When Sofia and Joss are fighting, Sofia spends more time with her.
Tina Hart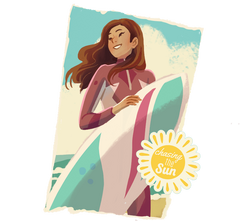 A professional surfer and Joss's idol, who founded an organization, Save The Coast, that cleans up beaches and helps protect sea animals. She also dances, which helps with her surfing.
Joss is excited to meet her at the Save The Coast competition announcement, though she struggles to hear her well over the noise of the crowd. Tina is impressed by Joss's unique victory move and asks Joss to teach her it.
Dylan Kendrick
Joss's younger older brother. He is fourteen, a filmmaker and photographer. According to Joss, Dylan is not big on following the rules, and often acts as if girls shouldn't be surfers. He and Joss do not get along well and he teases her frequently. They develop greater respect for each other by the end of Joss's first book when they decide to work together on a competition video.
Liam Kendrick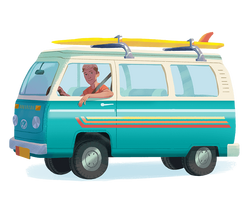 Joss's eldest brother. He is eighteen and planning to become a professional surfer, and works at the SoCal Board Shop. The board shop also sponsors him in his professional surfing pursuits. He also does volleyball and skateboarding. He owns a Volkswagen bus that he drives his family and friends in. Liam and Joss have a stronger relationship than she has with her brother Dylan.
Mr. Kendrick
Joss's father. He shaves his hair short. In his free time he does wordworking. Joss enjoys helping him with his projects. Unlike Mom and his children, he sinks like a rock in water and is the only member of the family who does not surf.
Mrs. Kendrick
Joss's mother. She works as a physical therapist (with Monday mornings off), grew up in California, and has surfed her whole life. She keeps a rock garden.
Mila
A cheerleader on the squad. She's a fifth grader with brown hair. Mila is initially rude, ableist, and highly skeptical about Joss's ability to participate fully in cheerleading, labeling her a "surfer girl" and asking rude questions about Joss's hearing loss.
Murph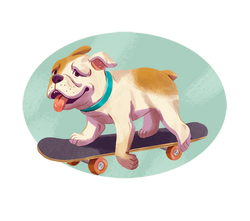 The Kendricks' English bulldog. Liam takes her surfing on a boogie board and films it for his competition video. Dylan spent the previous year teaching her to skateboard. She is "goofy footed" like Joss on her skateboard. She is very scared of thunderstorms and other loud rumbles.
Joss, Brooklyn and Sofia attempt to teach her skateboarding tricks for a school talent show, though it is complicated by the fact Murph is scared of the noise the skate ramp makes.
Nico
Nico is one of the braver surfers at the Break. He is Dylan's friend and Reina's younger brother. Nico has dark curly hair and is nicer to Joss and Sofia than Dylan. Joss accidentally runs into him on the same wave one time and hurts Nico's ankle. This pushes Dylan, Nico, Joss, and Sofia to enter the video competition together.
Reina
A older cheerleader who encourages Joss to try out for cheerleading and later coaches her. She is Nico's older sister and Liam's girlfriend. Reina helps convince Joss to stay in cheer by showing her how cheer strengthens her surfing skills.
Brooklyn Tillerman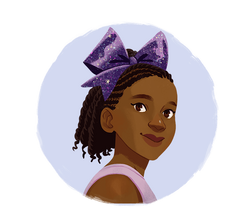 A black girl who becomes Joss's friend when she starts cheerleading. She has tiny black (micro) braids and is in Mrs. Wackum's class (the other fourth grade teacher at their school). Brooklyn supports Joss and stands up for her when Mila is rude.
Community content is available under
CC-BY-SA
unless otherwise noted.