"Mia" redirects here. For the doll, see Mia St. Clair (doll). For the book, see Mia.

Mia St. Clair was the sixth Girl of the Year released by the American Girl Doll company. She was released in 2008.
Character
Mia is the youngest child and only daughter of Tom and Eve St. Clair. She is their only daughter. Everyone in her family is heavily involved with the local ice skating rink where they play hockey. Mia, however, wants to be a figure skater.
She struggles through adjusting to the new skating style and her book plot revolves around improving as a skater. She is very determined, although often teased by her brothers about figure skating. Mia's best friend is Leah, a talented figure skater, and her nemesis is named Arya. She really inspires people to do things, (anything that they want to do), even if someone is teasing them, hurting them, or disagreeing with what they're doing.
She lives in upstate New York. 
Family
Tom and Eve St Clair: Mia's parents
Perry: Mia's oldest brother
Skip: Mia's second older brother
Rick: Mia's third older brother
Other Characters
Leah: Mia's best friend and fellow figure skater
Arya: Mia's nemesis
Tori Stafford: Mia's figure skating coach
Juliana: A snooty girl at Regionals
Books
See: Mia St. Clair (doll)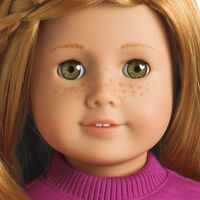 Skin: Light, freckles
Hair: Light red, layered, French braided on the right side near her face.
Eyes: Hazel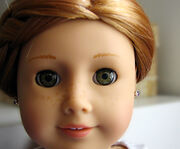 Mia's freckles are unique among the freckled dolls. Rather than dark-colored spots on either side of the nose, her golden-tan freckles have a new pattern and are on top of her nose as well as on either side and on her cheek bones.
Meet Outfit
Long-sleeved magenta sweater with snowflake decal
Grey skirt with sequins, embroidery at waistband
Blue panties
Pink tights
Blue high-top sneakers
Collection
See: Mia's Collection
Trivia
Mia is the first and only Girl of the Year to have a PC game, Mia Goes for Great.
See Also
Community content is available under
CC-BY-SA
unless otherwise noted.