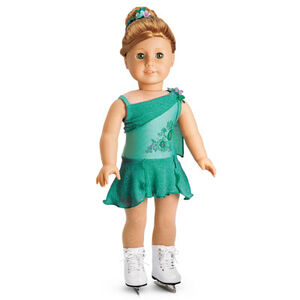 Mia's Performance Outfit was part of Mia's Collection and, like her, was retired at the end of 2008. The retail cost was $28.
Dress
Turquoise knit skate dress. Sparkle drape fabric at skirt, bodice, and with a strap over left shoulder. Three silk flowers at left shoulder. Embroidered flowers and sequins on left side of bodice. Velcros up the back.
Hair band
Turquoise elastic knit hair band. Three silk flowers.
Tights
Peach colored tights.