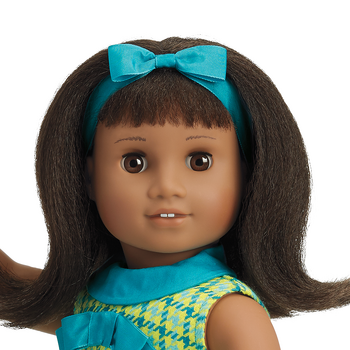 The Melody Ellison doll was released in 2016.
Melody Doll
Skin: Dark
Hair: Dark Brown, straight, upper back, textured, bangs,
The hair comes styled and flipped at the ends.
Meet Outfit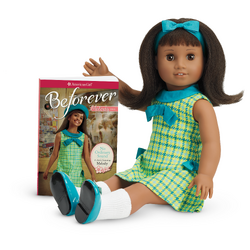 Melody's outfit is intended to reflect the casual style of the early to mid-60s for African-American/Negro[1] girls.While general silhouettes of the era were alike, historically African Americans in the 1960s wore brighter, bolder colors; many white people wore pastels or muted tones, still influenced by late 50s conservative colors and styles. This did not quite change until around mid-to-later in the decade.
Dress
Sleeveless knee-length A-line houndstooth print dress. Print is of dark aqua, light blue, and yellow lines in grid. Kick pleats on either side of dress starting at hip height. Fold over blue "silk" cowl style collar. Blue silk double bow at front; single bows on kick pleat sides. Basic hem. Velcros up the back.
Panties
White elastic hemmed panties.
Socks
White ribbed calf socks.
Shoes
Aqua blue patent leather flats. Teardrop toe keyhole cutout at toe. Blue patent leather bows over keyhole cutout. Matching topstitching. Black sole with slight heel.
Headband
Blue silk headband. Single bow at top. Elastic and gathering at back.
Meet Accessories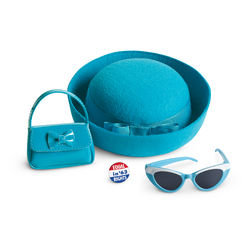 Hat
Aqua felt-pressed round Bretonne hat. Deep crown and rolled up brim. Attached blue silk ribbon band around crown with double-fold bow. (Bow should be worn towards back and hat tilted slightly up in front and down in back, for historical accuracy.)
Purse
Aqua blue patent leather fold-flap trapezoidal handbag. (Color and fabric matches meet shoes.) Small strap handle. Blue bow on flap. Matching topstitching. Flap closes with sewn on velcro.
Pin
Equal Rights in '63 "pin". Clip on back to attach to clothes.
Sunglasses
Aqua blue cat-eye style plastic framed sunglasses. Black-tinted lenses. White overlay of color on top half of glasses.
Second Version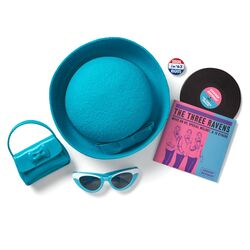 Melody's second set of Meet Accessories added the following items:
Record
Record Sleeve
Record of Dwayne Ellison's music group, The Three Ravens.
An outfit inspired by Melody's Meet Outfit was available:
Blue Bow Top: $32
Pleated Plaid Skort: $42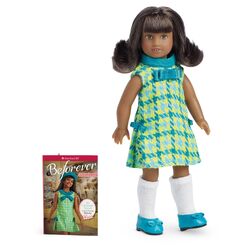 A Melody mini doll was released when she debuted in 2016.
References
↑

At the time, historically, Black Americans referred to themselves as "Negro."