"Melody" redirects here. For the doll, see Melody Ellison (doll). For the first illustrator of the Addy Walker Central Series, see Melodye Rosales.
Melody Ellison is the fifteenth Historical Character, and second initially exclusive to BeForever, representing the 1960s. Melody was released in 2016.
Personality and Facts
Melody (nicknamed Dee-Dee by her family) is nine at the start of the series and turns ten on January first, 1964. Her whole family is involved in music in some way, and are good singers. However, her parents believe that education and college will be a bigger boost up than music, especially her father. Her grandmother calls her "baby chick" (as she calls all her grandchildren chicks) and her father calls her "Little One."
Melody, along with singing, likes gardening; she feels calm and peaceful when working in the dirt. She does not always feel like a leader, even when her actions show her otherwise. She gets nervous singing in front of a crowd or performing. Melody loves "The Motown Sound" and the multiple acts coming from Hitsville, USA such as the Supremes, Marvin Gaye, little Stevie Wonder, and Martha and the Vandellas.
Family and Friends
See Also: Minor Characters in Melody's Series
Family
Friends and Other Characters
Books
Other Media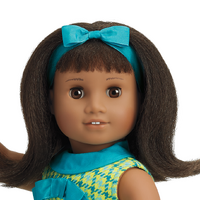 Main Article: Melody Ellison (doll)
Skin: Dark
Hair: Dark Brown, straight, bangs, flipped at the ends
Eyes: Brown
Collection
See: Melody's Collection
See Also
Trivia
As of 2022, Melody is the only character in any product line from American Girl to have a book--in her case, all her books--released before any items in the collection were available.
As an incentive for early adopters of the AG Rewards program, a one-time bundle for Melody, Melody's AG Rewards Collection, was available from August 1 to 8th, 2016; this included the doll and first book No Ordinary Sound, meet accessories, Melody's Dog, Bo, Melody's Fancy Floral Dress, and Melody's Hairstyling Set.
References