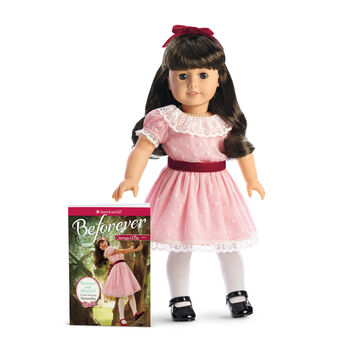 The Meet Outfit are the clothes a doll is wearing when she is purchased. This term was coined from both the original titles of the historical books and the dolls themselves; the first Historical book was titled Meet [Name] and the Historical Characters were originally sold with their Meet Books.[1] While originally a fandom term, this has been made official through use by American Girl.
See also: Meet Accessories
Initially, the meet outfit for Historical Characters on the purchased doll was the same outfit that they wore on the cover of the first book (her "Meet" book), making for a matched set of book and doll. Prototype sketches show that these were originally called "arrival outfits," but this name was never formally used.
Historical meet outfits show a general day outfit a girl of the era, class level, and culture would realistically wear.[2] For several characters, the meet outfit has specific significance in the meet stories--for example, Kirsten's are her first "American"-style clothes, and Addy's are (in both versions) the first outfit given to her on her escape to freedom.
Samantha's meet outfit was notably not illustrated in the books until the 1998 re-illustration; it was only on the cover. In 2004 with the revamp of the cover styles Molly was shown in her Halloween Hula Costume, the only time a character's meet outfit was not on the cover; she still came in her classic meet outfit. Felicity's cover outfit changed when her meet outfit changed from the Rose Garden Gown to her traveling gown; she is the only Historical Character who had her Meet Outfit changed completely before the BeForever launch. In 2014 with the launch of BeForever, the meet outfit was shown on the first volume.
Meet outfits can occasionally be purchased as replacement parts; however, they are sold in separate parts generally consisting of the dress/outfit, shoes and/or socks, and underwear if offered. Purchasing them in this manner almost always makes it more expensive than buying a new doll and removing the outfit. When a character is retired, so is her meet outfit. With the launch of BeForever, the new outfits were originally available separately for $36; as well, for a brief period, the original Classic Outfits were made available for Addy, Julie, Rebecca, Josefina, and Kit for $36. The individual meet outfits do not come with any of the hair decorations, ribbons, or barrettes but are otherwise complete, including underwear and shoes. Outfits for Kaya and Caroline are/were not available separately as their outfits did not change; a Classic Outfit was not made available for Samantha (or later, Felicity) as they had previously been retired for some time. Molly's BeForever meet outfit was briefly available separately in May 2020.
Any characters who were either initially launched in the BeForever marketing or released after its depreciation have not have their meet outfits available separately, as they have not had any other available outfits.
Like the Historical Characters, Best Friend Characters' meet outfits are intended to reflect the day-to-day outfits of the characters and illustrated on the cover of their books. [3] Like the Historicals, their meet outfits could be purchased separately as replacement parts and were retired with them.
Main Article: Modern Character Meet Outfits
Modern dolls have been available in varying outfits during their release. The outfit has updated regularly to reflect modern fashion trends for the target audience, roughly every two to three years.
Unlike Historical Meet Outfits, they were often sold separately from the dolls as complete outfits for standard prices. (The notable exception is the first set, as at the time it was assumed that a purchaser did not have a doll with a Meet outfit already.) The rationale for selling later outfits separate was that a person could probably already have a doll, but may not want to buy a whole new doll to get an outfit.
The Star Hoodie Outfit was the last meet outfit available as a separate purchase with the launch of Innerstar University, since codes were bundled with meet outfits and made wholly unavailable as a separate purchase. This returned with the Lilac Dress, but subsequent outfits have not been separate purchases.
Modern dolls were originally advertised as "modern" historicals, and came with with blank books matching the Central Series pattern. Although the line is now marketed as a companion to the customer and thus no longer come with blank books (though starting in 2019 they started coming with a companion book), their outfits are still called Meet Outfits.
In 2021, three dolls--Just Like You 89, 90, and 91--each came with specifically unique meet outfits and a shared set of accessories. In 2022, Just Like You 92 also received a unique meet outfit, along with unique accessories.
In 2018, with the release of boy dolls, a male meet outfit was released; it is updated as the female outfit is updated.
Girls of the Year, Contemporary Characters, and World By Us Characters are sold in identifying character outfits. These outfits are shown on the cover of the accompanying book (or, with characters after Nicki Fleming, the first book).[7]
Meet outfits for Girls of the Year are traditionally not offered as replacement parts. Starting with Mia St. Clair, select outfit parts were available separate from the doll for a breif time. Some parts were made available after retirement in limited quantities or are resold as part of the My American Girl line with more generic names, but in recent years they have not been made available at all separate from the character; a noted exception is recent purchasers of Just Like You 46 were offered Gabriela's meet outfit separately, as the dolls were exceptionally similar.
Our New Baby was sold in a white cotton sleeper with a light print.
Bitty Baby has always been sold in a sleeper. Like the My American Girl line prior to the Truly Me relaunch, the Bitty Baby sleepers were initially sold separately from the dolls as complete outfits; with the release of the Cuddly Star Sleeper, the outfit was not available separately. Meet outfits were made available again in 2015.
Meet outfits for Bitty Twins were sold on dolls and separately as complete outfits. With the revamp of the line into more mature clothing, older paired sleepers were discontinued.
The outfits for the WellieWishers are both their meet outfits and their dominant character outfits in book illustrations, animations, and logos. The outfits are mostly the same from doll to doll with variances for character; they consist of a cap sleeved tee, gathered skirt, simple panties, and wellies (rainboots); each also has a unique hair decoration, such as a headband or ponytail holders.
In 2021, the meet outfits were changed significantly. Every character's outfit now consists of a leotard, pull on skirt, and a plastic headband; Kendall's also comes with additional wings. Wellie boot designs did not change.
Every One Of A Kind Doll made in the Create Your Own line is outfitted in a full outfit at purchase, selected by the designer; these are analogous to standard meet outfits. They are also available separately, but only through the system.
References