Meet Marie-Grace: An American Girl is the first book in the Marie-Grace and Cécile series. It was included with the Marie-Grace doll when purchased; with the collection's archival, it can be purchased separately.
Characters
Introduced
Only in Meet Marie-Grace
Chapter by Chapter Summary
Chapter One: Home Again
Chapter Two: Just the Right Note
Chapter Three: A Helping Hand
Chapter Four: Important Lessons
Chapter Five: By Special Invitation
Chapter Six: Switched
Discusses the history of New Orleans. Topics covered:
Items associated with Meet Marie-Grace
See Also
Trivia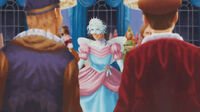 References and Footnotes
↑ pg. 7: "There are lots of [parades] today," said Uncle Luc. "It's the anniversary of our victory at the Battle of New Orleans..." The Battle of New Orleans ended on January 18, 1815.
↑ Since Easter Sunday fell on March 27th in 1853, Ash Wednesday would have been forty days priors on February 16. Mardi Gras, which falls the day before, would have been February 15.
↑

The books are more accurately a parallel.