Meet Cécile: An American Girl is the second book in the Marie-Grace and Cécile series. It was included with the Cécile doll when purchased; with the collection's archival, it could be purchased separately.
Characters
Introduced
Only in Meet Cécile
Chapter by Chapter Summary
Chapter One: Kings and Chocolate
Chapter Two: Free People of Color
Chapter Three: A New Friend and Good News
Chapter Four: Mardi Gras Season
Chapter Five: Dancing Fairies
Chapter Six: Secrets and Promises
Discusses the history of free people of color in New Orleans. Topics covered:
New Orleans in the 1850s and how it differed from other cities in America
Educated slaves and free people of color who owned businesses
Daily life, education, and expectations of children from wealthy families
French and Spanish laws that allowed slaves to earn money and buy their own freedom when Louisiana was under European rule
How gens de couleur libres from both America and Saint-Domingue influenced New Orleans culture
Prejudice faced by gens de couleur libres of New Orleans from Américains following the Louisiana Purchase, due to cultural and religious differences
Laws enacted by the American government to limit the rights of gens de couleur libres in New Orleans
How European immigration changed New Orleans, such as the use of the English language at schools, businesses, and government
The role gens de couleur libres played in the development and culture of New Orleans
Segregated areas for white people and gens de couleur libres at entertainment venues such as concerts and balls
The unique identity among New Orleans' gens de couleur libres, working together to help the less fortunate and pressing for greater equality in government, despite being forbidden to vote
Glossary of French Words/Preview
A glossary of the French words Cécile's family uses and a preview of Marie-Grace and the Orphans.
Items associated with Meet Cécile
See Also
Trivia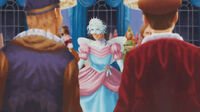 References
↑ Pg 73: Today [Cécile's] birthday was still a week away, yet she was almost trembling with excitement. Since Cecile's birthday is March 28th, the day of Armand's arrival would have been May 21th
↑

The books are more accurately a parallel.

↑ As Meet Cécile is told from Cécile's perspective, Lavinia is not identified by name.