The McKenna Brooks doll was released in 2012 and was available for only one year before retirement. She was considered the Girl of the Year for 2012.
Skin: Light
Hair: Caramel, no part, no bangs, rooted at the front.
McKenna's hair was styled into a high, front-pulled ponytail on the top of her head.
Eyes: Light blue
Eyebrows: Feathered
Meet Outfit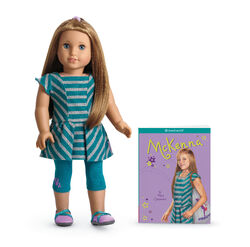 Dress
Cotton dress with teal and gray contouring stripes, flutter sleeves, square neckline, and dropped waist.
Leggings
Teal leggings with elastic waist. Purple ribbon graphic on right leg.
Underwear
Lavender underwear with ribbon graphic.
Ponytail Holder
Lavender elastic ponytail holder.
Shoes
Purple slip-on shoes. Teal crossover straps.
McKenna's Dress and McKenna's Leggings for children were available.
See Also