"McKenna" redirects here. For the doll, see McKenna Brooks (doll). For the book, see McKenna. For the movie, see McKenna Shoots for the Stars.

McKenna Brooks is the tenth Girl of the Year released by American Girl. She was released in 2012.
Character
McKenna is a ten-year-old girl in fourth grade who lives on Queen Anne Hill in Seattle, Washington. She is skilled in gymnastics but struggles with her schoolwork, specifically reading comprehension.
McKenna is the oldest of three children, with younger twin sisters named Maisey and Mara Brooks, who are both five. Maisey and Mara both do gymnastics like McKenna does. Her dad is a high school principal and her mother owns a coffee shop.
McKenna is described as strong-willed and determined; she wants to become an Olympic gold medalist in gymnastics.
McKenna has a dog named Cooper and a pet hamster named Polka Dot. She attends Greentree Elementary School, and her friends include Toulane Thomas and Sierra Kuchinko (both of whom are gymnasts), and Josie Myers (who is also her tutor).
Books
Movie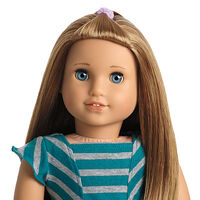 Skin: Light
Hair: Caramel/Dark blonde
Eyes: Light blue
Collection
See: McKenna's Collection
See Also
Trivia
McKenna dolls were sold out on December 5th 2012, she is currently the fastest Girl of the Year to sell out.
McKenna was the first Girl of the Year to have an outfit that was not generally available; McKenna's Warm-Up Outfit was only available when purchasing her starter collection.
McKenna was the first Girl of the Year since Chrissa Maxwell to have a film. This trend would continue until Lea Clark.