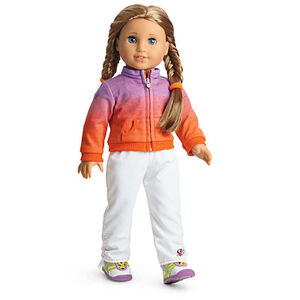 McKenna's Warm-Up Outfit is part of McKenna's Collection and, like her, was retired at the end of 2012.
It was only sold with McKenna's Starter Collection.
Jacket
Purple and orange color-gradient jacket. Light purple star on upper right sleeve. Functional zipper.
Pants
White athletic pants. Scrunched ends. Orange and purple ribbon ombre graphic on the left leg.
Shoes
White athletic sneakers with purple and green accents. Green laces.
Hair Elastics
Two orange hair elastics.
Hairstyle Card
Hairstyle Card # 1: Fishtail Braids. Tips on styling fishtail braids.