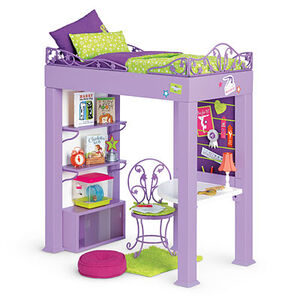 McKenna's Loft Bed Set is part of McKenna's Collection and, like her, was retired at the end of 2012. The retail cost was $225.
Bed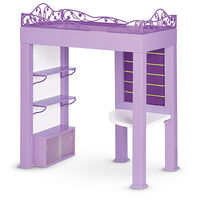 Lavender wooden loft bed attached to shelves and a desk underneath. Metal scrollwork safety rail. Requires some assembly.
Mattress
Purple mattress.
Quilt
Reversible quilt. Solid purple on one side, and green star print on the other.
Pillows
Purple pillow with printed ribbon graphic. Green star print pillow.
Chair
Purple metal chair. Open scrolled back. Curlicue legs.
Seat Cushion
Green star print cushion.
Floor Pillow
Magenta floor pillow.
Hamster Cage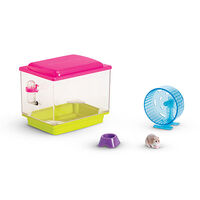 Clear plastic hamster cage. Pink top and green bottom.
Hamster Exercise Wheel
Translucent blue plastic exercise wheel.
Hamster
Tan and white hamster.
Food Bowl
Purple hamster food bowl.
Water Bottle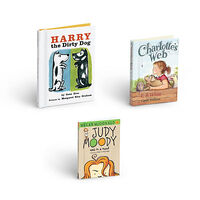 Clear animal water bottle. Pink handle.
Books
Doll sized abridged books:
Pencils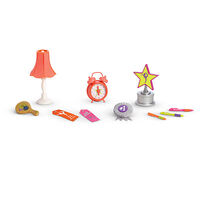 Three non functional mechanical pencils: Orange and green, purple and green, and pink and orange.
Clock
Orange nonfunctional alarm clock. Moveable clock hands.
Lamp
Nonfunctional red lamp.
Mirror
Wooden hand mirror with three flowers on the back.
Ribbons
Three prize ribbons.
Trophy
Star trophy with a gymnast on it.
Rug
Green fuzzy rug.
Poster
Pink poster with the phrase, "Go For It!" and logo of a gymnast.
Paper Pad
Lined paper pad.
Letter
Letter from McKenna's mother.
Note
Green heart-shaped note with the phrase, "Never give up!"
Bumper Sticker
"I love gymnastics" bumper sticker.
Certificate
Certificate about gymnastics.
Sticker Sheet
Sheet of 14 stickers.