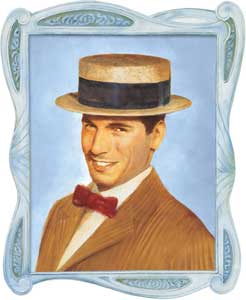 Max Shepard is a cousin to Rebecca Rubin.
Facts
Name: Max Shepard (born Moyshe Shereshevsky; Russian: Мойше Шерешевскй)
First Appearance: Meet Rebecca
Family
Personality
Max changed his name from Moyshe Shereshevsky to have a more American name. He is a cousin through Mama's side.
Rebecca admires Max, and was very concerned with fixing the table for his visit.
Max aspires to be an actor. He is very silly and always has a joke or trick for the family.
He proposes to Lily Armstrong and moves out to Hollywood, California with the migrating Banbury Cross Studio.
In the Books
Max comes over to the Rubins for dinner. He plays a funny trick about lion powder, which Rebecca later uses to try to earn some money.
Max's birthday gift to Rebecca is a hat. He invites Rebecca to visit the Banbury Cross Studio for her birthday.
He announces to the family that he is engaged to Lily Armstrong, and they are both moving to California with their movie studio Banbury Cross.
Community content is available under
CC-BY-SA
unless otherwise noted.