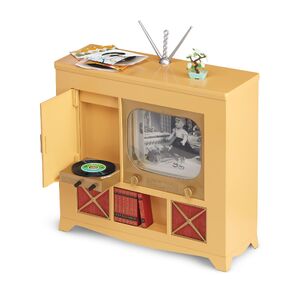 Maryellen's Television Console was introduced to Maryellen's Collection in 2015 and retired in 2019. The retail cost was $85.
Television Console
Faux wood television console in the style of a 50s era television set. Pretend bookshelf on the bottom row with non-removable encyclopedia set. The console acts as a specialized case for certain iPad models, to be used with the Maryellen TV Console app.
Bonsai Tree
Miniature bonsai tree.
Records
A set of pretend records, to be placed on a pretend record player to the left of the screen.
Record Sleeves
Screen