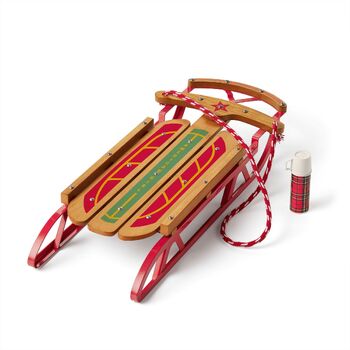 Maryellen's Sled was introduced to Maryellen's Collection in 2019. It is paired with Maryellen's Sledding Outfit. The retail cost is $65.
Sled
Wooden and metal sled. Red metal runners. Wooden seat with printed red and yellow designs on left and right sides. Center slat of wood has green decoration with "American Girl" written in yellow font.
Red string cord with white stripes. Cord connects to wooden cross piece with red star printed in center. Cross piece guides sled left or right.
Container
White metal insulated container with red plaid design. White plastic lid on top with star printed on it. Lid can be taken off. Underneath is a stopper that can be unscrewed to open container.
See Also