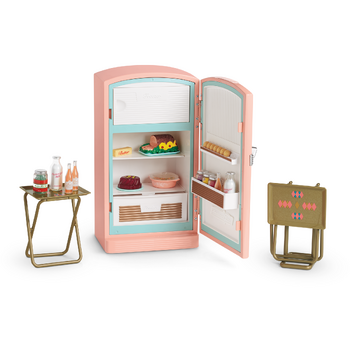 Maryellen's Refrigerator and Food Set was introduced to Maryellen's Collection in 2016 and retired in 2019. Retail cost was $150.
Refrigerator
Light pink, mint green, and white fridge. Pink body of fridge is metal and interior parts are plastic. Exterior has silver handle and "American Girl" in 1950s-style writing. Door has two white shelves inside with brown accents. Top shelf has egg shelf with yellow plastic eggs that are not removable. Empty spaces for two more eggs on right of shelf. "American Girl" '50s logo is printed inside of door.
White freezer door with "Freezer" in cursive script and indent to pull door open. Inside of freezer has white faux control buttons for fridge settings. Freezer door has shelf with brown accents and a mint green shelf that holds butter sticks.
White plastic drawer with brown accents and cursive script that says "Produce."
TV Trays
Two gold metallic plastic TV trays. Top of tray has pattern with outlines of boomerangs and pink, gold, and blue diamonds. Trays fit TV dinners.
TV Tray Stand
Gold metallic plastic stand to hold two TV trays.
Ice Cube Tray
Silver plastic ice cube tray. Silver handle lifts up and clear plastic ice cubes rise out of tray.
TV Dinners
Three cardboard boxes with 1950s-style designs. Each has a wood-style background print with a picture of the food tray inside. All say "Frozen TV Dinner" and "Heat and Serve!" Boxes have fried chicken, macaroni with cheese, and beef in gravy.
All foods are plastic and are attached to silver plastic trays. Fried chicken dinner includes three pieces of fried chicken, mashed potatoes with a pat of butter, and mixed veggies including green beans, carrots, corn, and peas, also with a pat of butter. Macaroni dinner has yellow macaroni with cheese and peas and carrots with pats of butter. Beef with gravy dinner has two darker brown slices of beef over lighter brown gravy, along with peas and mixed veggies with pats of butter that match those in the other sets.
Milk Bottles
Two clear plastic milk bottles with silver lids. Faux white milk inside. Pink label reads "Pasteurized Milk" and "One Quart Liquid."
Soda Bottles
Four clear plastic soda bottles with silver lids. Faux orange soda pop inside. White label reads "Soda" and has star logo.
Casserole
Pink plastic casserole dish with white floral decoration on side. Plastic casserole inside with red food base and peas, carrots, and corn. Clear plastic lid.
Gelatin Dessert
Translucent red plastic gelatin molded dessert. Garnish on top with mint leaves and cherries.
Dessert Tray
Mint green plastic tray to hold gelatin dessert.
Cooked Ham
Plastic ham that has already been sliced and has yellow, red, and green garnish. Attached to plastic mint green tray.
Butter Sticks
Four plastic sticks of yellow butter. "Butter" written in red script on the top.
Jelly Jar
Clear plastic jar with silver lid. Faux purple jelly inside. Purple label with picture of a bunch of grapes and "Grape Jelly" written in script.
Relish Jar
Clear plastic jar with silver lid. Faux green relish inside. Red label around base of jar with "Kosher Relish" written in green and white section.
Jam Jar
Clear plastic jar with silver lid. Faux pink jam inside. Label has red and white checkered pattern and a red and white section with "Strawberry Jam" in cursive script.
Mustard Jar
Clear plastic jar with silver lid. Faux yellow mustard inside. Label is yellow and has a green border. Includes red and white section reading "English Mustard."
Ice Pop Treat
Cardboard box with 1950s design in orange, blue, and white colors. Reads "Ice Pops," "Yum," and "Orange Flavored." Has pictures of oranges and orange ice pops. Contains two plastic ice pops connected together. Yellow stick with translucent orange ice pop.