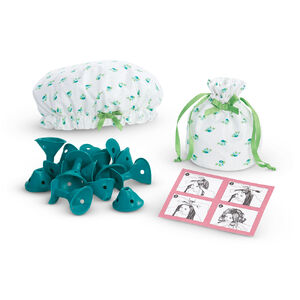 Maryellen's Hairstyling Set was introduced to Maryellen's Collection in 2015 and retired in 2018. The retail cost was $20.
Cap
Elastic edged dotted swiss cotton sleeping cap. Fabric is of white background with blue and light blue floral groupings (with light green leaves) evenly spaced. Center front has light green grosgrain ribbon bow.
Bag
Dotted swiss cotton storage bag. Same fabric as cap. Green grosgrain drawstrings. Circular bottom. Front center has green grosgrain bow.
Hair Curlers
Twelve blue plastic Spoolie-style hair curlers.
Instructions
Cardstock instruction card. Front has a pink top and a blue bottom--about 2/3 pink; side image of three loose Spoolie curlers, and "Soft Hair Curlers" in white text ("Soft" in script, "Hair Curlers" in all caps). On the right side is a photograph of a doll in an oval with the curlers in her hair. Back of card has four drawn images of how to use the curlers in a doll's hair.
Trivia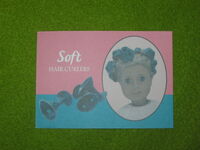 Unlike most of the other hairstyling sets made available for Beforever Characters, Maryellen's is intended to complement her pajamas and not her meet outfit.
The doll shown on the front of the instructions is not Maryellen and instead Just Like You 56.
American Girl previously sold spoolie-style curlers in a modern accessory set, the Hairdo Helper III.