:"Maritza" redirects here. For the doll, see Maritza Ochoa (doll).
Maritza Ochoa is one of the first three members of the World by Us line. She was released in 2021.
Personality and Facts
Maritza is Bolivian on her mother's side and Mexican on her father's side. She is DC born and raised.
She is sporty and plays soccer; she dreams of playing for the US women's soccer team, and even coaching it someday. Her personal justice goals include helping immigrant families remain together in the US. She is not much of a shopper and has a sporty style, but never knows where to start. She also enjoys school, fiestas, and winning 5K races. She is bilingual in both Spanish and English. She gets very upset whe people assume that, because she is Latina, that she and her family and friends are not American citizens.
Her Instagram handle is itza.soccerchica.
Family and Friends
Family
Enrique Ochoa: Maritza's father.
Erika Ochoa: Maritza's mother.
Javier Ochoa: Maritza's brother.
Friends and Other Characters
Sofia: Maritza's friend.
Violeta: Maritza's mother.
Books
Main article: Maritza Ochoa (doll)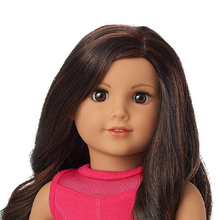 Face Mold: Joss Mold
Skin: Medium
Hair: Dark Brown
Eyes: Brown
Collection
See: Maritza's Collection
Trivia
Author

Angela Cervantes

was able to select Maritza's name and so chose to name her after soccer player Guillermo Ochoa.[1]
References