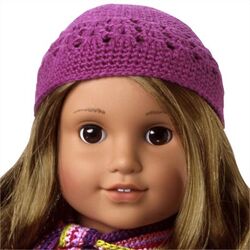 The Marisol Luna doll was released at the end of 2004 and available for only one year before retirement. She was the Girl of the Year for 2005.
Skin: Medium
Hair: light brown, slight curl, right side part, no bangs.
Marisol comes with her hair in two ponytails.
Meet Outfit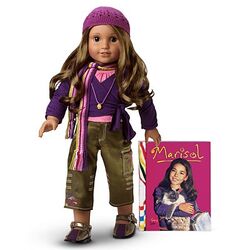 Marisol's meet outfit is designed to reflect her style as a dancer.
Tank
Pink sleeveless stretch knit tank top with small gather at neckline. Armholes and neckline are trimmed with same fabric. Velcros up the back.
Wrap Top
Deep purple stretch knit long sleeved wrapped top. It is lower cut in the front to allow the tank top to be seen underneath. There is clear plastic elastic on the upper seam of the sleeves and sides of the shirt. Wraps right over left; a snap on the right side allows the left side to stay in place when worn. Ties on the left side with attached ties.
Pants
Satin olive green cargo capri pants. The pants are top stitched in pink thread. Pocket on left leg. Embroidered with pink lines on each leg and purple, magenta, and light purple flowers (with green leaves); the flower bunches are on the pocket on the left leg and at hip and cuff on the right. Velcroes at fly with non-snag elastic.
Shoes
Olive green shiny patent leather Mary Jane shoes with a front dark magenta stripe and matching top stitching. Velcros fastening through a metal oval loop.
Hat
Magenta crocheted hat; done in single crochet with three rows of decorative shell stitch.
Necklace
Circle flower pendant on a thin pink cord.
Scarf
Multicolored striped crochet scarf in purple, dark purple, dark pink, lavender, red, and green. The scarf is sewn into the front tied knot and Velcroes at the back.
Panties
Lavender panties with pink elastic trim.
Hair Elastics
Two pink hair elastics.
Earrings
Six pairs of stick on "earring" stickers.
Marisol's tank, wrap top, cargo pants, and hat were offered in children's sizes. The scarf design was modified into a choker.
Wrap top: $26
Tank: $22
Cargo pants: $36
Hat and Choker: $18
Trivia
Marisol's hat is similar to the one that comes with the School Accessories.
Mail-order Marisol dolls came in a standard American Girl Today blue box. Some had a Marisol logo sticker added midway down the box. Dolls sold in American Girl Place stores came in a box with a unique lid. This had a plastic see-through window with the American Girl Today logo underneath. Marisol's logo sticker was an oval magenta sticker with an orange sun in the center. Marisol's name appears in yellow in the same logo font as on her book. This box design was also used in stores for Kailey. In-store Lindsey dolls also had a see-through window box using the earlier yellow American Girl Today box style. By the time the next Girl of the Year, Jess, was released, all historical and modern dolls came in a standard red box with a see-through window, so there was not a need for unique boxes in stores.
See Also