"Marisol" redirects here. For the doll, see Marisol Luna (doll). For the book, see Marisol.

Marisol Luna was the third Girl of the Year doll released by the American Girl Doll company. She was released in 2005.
Character
Marisol Luna is a Latina girl who, at the start of the book, lives in Pilsen which is a neighborhood in Chicago, Illinois. She lives with her father and mother in the very Latino-influenced neighborhood. She is bitterly disappointed when they choose to move away from her neighborhood to Des Plaines, a suburb. Not only will she be leaving her home, but her new neighborhood does not have a dance studio for her to practice at.
Marisol is an aspiring dancer. She primarily dances in a traditional Mexican style known as ballet folklorico. She has recently started ballet and has only had a little jazz and tap training. (Despite this, American Girl marketed her more as a modern dancer and nothing in her collection addressed her heritage.) Marisol was described as lively and resourceful.
She is described by both her teacher and her principal as their best student, and she often tries very hard to be good in her dance classes, even though ballet is more difficult for her than Folklorico and Jazz. She is also very competitive, and enjoys competitive sports (excluding Football), as well as dance. She often has a stash of candy with her. She also has a cat named Rascal, who she adopted off the street when she was seven years old.
Family and Friends
See also: Minor Characters in Marisol's Story
Family
Hector Luna: Marisol's father
Elisa Luna: Marisol's mother
Friends
Sara: Marisol's classmate and best friend
Victor: A boy who lives nearby Marisol in Pilsen
Karen Johnson: Marisol's new friend in Des Plaines
Gloria Mendoza: Marisol's neighbor's daughter, who is a dancer.
Book
See: Marisol Luna (doll)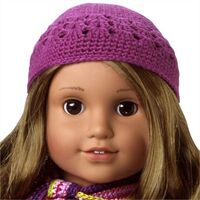 Skin: Medium
Hair: Brown
Eyes: Light brown
Collection
See: Marisol's Collection
Trivia
Marisol was the first Girl of the Year to have a Starter Collection; Kailey and Lindsey did not have large enough collections to justify a separate Starter Collection.
Marisol's release was somewhat controversial. In the book, Marisol's parents explain that they are moving from Pilsen to Des Plaines because they feel the neighborhood is dangerous and that there is no place to play. Residents of the area and the Latino community protested the doll and book, citing that the story gives a negative portrayal of their neighborhood. Stephanie Spanos, senior public relations associate for American Girl, responded as such:
"We feel that this brief passage has been taken out of context in the book...In the story you'll see that Marisol's parents want to have a house and a yard, and a place for her to play. As well as [those], there are some other reasons, too, that they are talking about moving."[1]
See Also
References