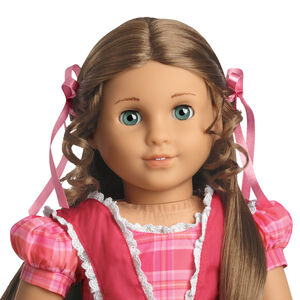 The Marie-Grace Gardner doll was released in 2011, along with Cécile Rey. Marie-Grace was retired in 2014.
Marie-Grace Doll
Skin: Light
Hair: Light Brown
Marie-Grace's hair comes in two criss-crossed braids.
Meet Outfit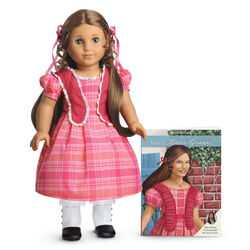 Marie-Grace's meet outfit is intended to reflect the more urban fashions of living in a large city to as opposed to her contemporary of Kirsten Larson and compliments Cecile's meet outfit; hers is less richly decorated as her father is considered middle class as a doctor.
Dress
Pantalettes
White pantalettes. Eyelet lace at hem. Elastic waist.
Stockings
White semi-sheer knee high stockings.
Boots
White and black high button shoes. Black toes. Four black nonfunctional buttons on the sides. Velcros up the back.
Hair Ribbons
Pink silken hair ribbons.
Meet Accessories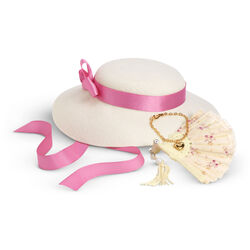 Hat
Necklace
Gold heart-shaped locket attached on a gold chain. Starburst design on the locket.
Fan
Mini Doll
Marie-Grace received a mini doll in her meet outfit. Unlike other archived American Girl historical characters like Kirsten, Marie-Grace and Cécile's mini dolls were entirely retired with BeForever in 2014.
Trivia
A paper doll set was included as a bonus for pre-ordering either Marie-Grace or Cécile prior to their release.