"Marie-Grace" redirects here. For the doll, see Marie-Grace Gardner (doll). For the similarly-named 2015 Girl of the Year character, see Grace Thomas.
Marie-Grace Gardner is the twelfth Historical Character, representing 1850s New Orleans. Marie-Grace was released in 2011 along with Cécile Rey.
In May 2014 American Girl announced that they would archive Marie-Grace's entire collection; she, Cécile Rey, and their collections were archived prior to the BeForever relaunch. Their books remain somewhat available for purchase.
Personality and Facts
Marie-Grace was born in New Orleans; she and her father left the city to live on the east coast after her mother and younger brother's deaths in 1849. Her middle name, Rousseau, is derived from her mother's maiden name. She was brave as a young child, but years of moving frequently on the Northeast coast of the United States and not having a stable home have changed her; she is now quite shy and feels out of place and like her father couldn't find the right place. Her nickname, Ti-Marie, is a pet name only her mother and Luc Rousseau use with her. "Ti" is a diminutive of "petite", thus translating to "Little Marie." Her father often calls her Grace.
Marie-Grace is more of a loner than Cécile,[7] and considers one of her best friends to be her loyal dog, Argos who usually follows Marie-Grace around everywhere. SHe can be apprehensive, and at first she finds it hard to stand up for herself; it is the encouragement by Cecile that helps her become more confident. She is more practical and sensible than Cécile. Cécile thinks Marie-Grace hides an adventurous spirit similar to Cecile's own behind a shy demeanor.
She takes music lessons with Cécile and enjoys singing and parades. She is not as good at speaking French as she once was, but shopping for the household alone has made her excellent in mathematics. She is very caring, and good with babies and children. She often helps her father with his medical work and has shown herself to be very good at helping heal others.
Family and Friends
Family
Friends and Other Characters
Books
See: List of Marie-Grace and Cécile's Books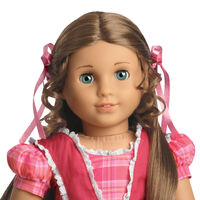 Main Article: Marie-Grace Gardner (doll)
Collection
Trivia
See Also
References