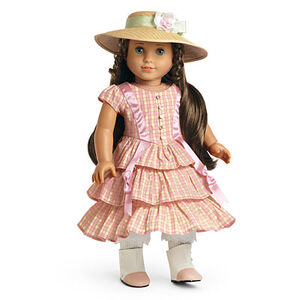 Marie-Grace's Summer Outfit was a limited edition outfit introduced to Marie-Grace's Collection in 2012 and retired the same year. It is associated with the book Marie-Grace and the Orphans. Retail cost was $36.
Dress
Checked taffeta-style calf length dress. Print of checked pink and pale green. Boatneck neckline. Cap sleeves. Bodice with pointed waist at front gathers and pink satin lining; has tucked front placket with five round shanked white pearl decorative buttons. Three-layer gathered skirt with pink satin at each yoke and interfacing behind yokes. Two satin pink ribbons (5/8" width) run down the sides of bodice from shoulder to waist and then loose over skirt down to the second tier of skirt with gather-knotted bows and v-pointed ends. Velcros up the back.
Hat
Round wide-brimmed woven straw hat. Tan bias covering at edge. Light green ribbon at crown with gathered loop and diagonal cut ends. White flower with pink center tacked on top of ribbon at front left. Tan elastic chin strap.
Boots
Pink and cream calf length boots. Pink at toes. Nonfunctional white studs to simulate buttons on the side near seam. Pale tan soles. Velcro up the back.