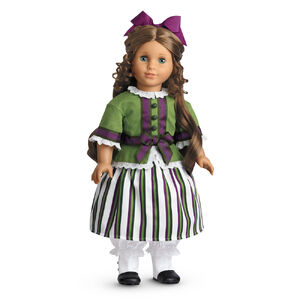 Marie-Grace's Party Outfit was introduced to Marie-Grace's Collection in 2011 and retired in 2013. It is associated with the book Marie-Grace Makes a Difference. Retail cost was $34.
Jacket
Skirt
White, green and purple striped skirt. Calf length.
Pantalettes
White pantalettes. Ruffled lace at hem. Elastic waist. These differ from the pantalettes that come with Marie-Grace's meet outfit.
Hair Ribbon
Purple grosgrain hair ribbon.
Trivia
A special edition mini doll of Marie-Grace wearing her Party Outfit and an abridged copy of Meet Marie-Grace was released in 2011 to celebrate American Girl's 25th anniversary.