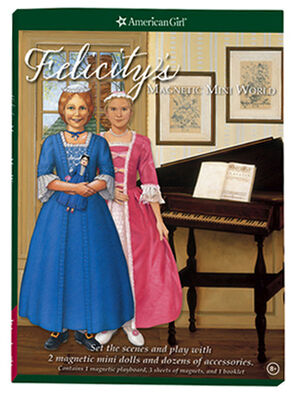 Magnetic Mini Worlds were a series of activity books for selected Historical Characters.
Contents
Based on the second set of historical paper dolls, the sets came in top-open envelopes for a retail cost of $9.95. Contents included four magnetic mini dolls--based on the Historical Character and her best friend--one tri-fold magnetic play board background with two sides, three sheets of various magnetic accessories, and a quad-fold informational booklet.
The dolls and accessories were on thin magnetic-backed papers. The character was dressed in three of her outfits; this did not always include the meet outfit--and The best friend was dressed in the outfit they were given in the paper dolls. Accessories initially were on magnetic sheets that could be punched out. The background is magnetic to let the accessories and dolls stick and has a colored border.
The booklet, called "Character's Scenes and Settings", was a dual-sided quad-folded booklet with four pages on each side. The front discussed the home setting, one of the scenes, and showed a small close up of a setting map. The back (which included the "cover") discussed the other included scene and advertisements for other activity sets such as the paper dolls, Art Studios, and Frame Puzzles. The scenes also described details and accessories that could be used in the setting, such as small background items.
The backdrops were based on either images from the Scenes and Settings or the paper dolls. As Kit and Kaya never received Scenes and Settings backgrounds, they were based on the paper dolls alone. Accessories could be based on either the backgrounds or the character's collection.
No characters after Kaya received these sets and they are all now retired.
List of Magnetic Mini Worlds
Community content is available under
CC-BY-SA
unless otherwise noted.