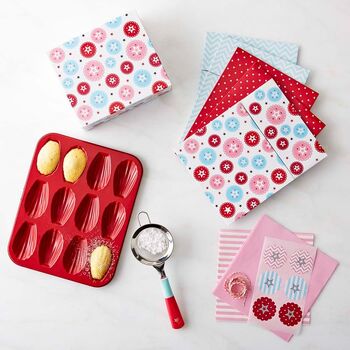 The Madeleine Set is an American Girl item made in partnership with Williams-Sonoma and connected to Grace's Collection. It was released in 2015 and retired in 2021. Retail cost is $49.95.
Baking Plaque
Red carbon steel baking plaque that makes 12 madeleines. Nonstick coating. 8" x 10" x 1/2" high.
Sugar Sifter
Stainless steel sifter. End of handle is blue and red plastic. AG star cutout on end can be used for hanging. American Girl logo printed into plastic on handle. 9" long.
Gift Boxes
Six gift paperboard boxes. Two are white with a light blue chevron print. Two are red with a white star pattern. The final two are white with a pattern of doilies in pink, blue, and red. Doilies have white AG cutout in center. Boxes me 9" x 7" x 3" high.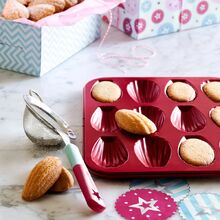 Tissue Paper
Six sheets of tissue paper. Three are solid pink and three are pink and white striped.
Twine
Six yards of red and white striped box-tying twine.
Stickers
Six circular stickers with scalloped edges. Two are white and pink chevron print with a silver AG star in the center. Two are blue and white striped with a silver AG star in the center. The final two are red with a white star pattern and a large silver AG star in the center.
Gift Tags
Six gift tags.
Tip Guide
Guide with baking tips for children.
Trivia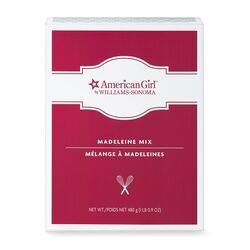 Williams Sonoma also sold a premixed Madeleine Mix for $12.95 separately (makes approximately 160 mini-madeleines).