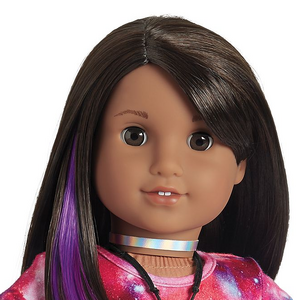 The Luciana Vega doll was released in 2018 and was available until September 2021 before retirement. She is considered the Girl of the Year for 2018.
Skin: Medium
Hair: Dark Brown, straight, long left sideswept bangs, right part, mid-back length
There is a permanently attached bright purple streak on the right side of her hair. The hair is layered so it may not always be directly visible.
Meet Outfit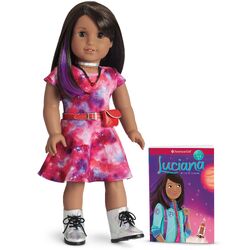 Dress
Knee length knit galaxy print dress. Slightly open round bound neckline. Cap sleeves. Flared half-circle skirt. Print of "galaxy" print with pink base, and swirls of purple and darker pink clouds with white stars scattered. Velcros up the back. American Girl plastic tag on lower left front hem of skirt.
Choker
Silver holograph vinyl strip choker. Closes with silver AG "heart"-closure clasp.
Necklace
Black slide-knot cord necklace with red star bead.
Pouch Belt
Red faux-leather belt with silver closing buckle. Attached red leather rectangular pouch that closes with Velcro on flap. Velcro closure under buckle.
Boots
Silver holograph vinyl ankle boots. Black laces. Black plastic soles with crosses and ridging. White stitching, White lining.
Panties
Pink knit panties. White elastic edging.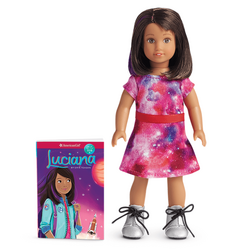 A Luciana mini doll was available with her release and was retired in 2021. Retail cost was $24. Luciana was the last Girl of the Year to have a mini doll.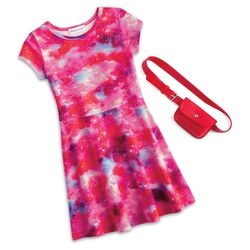 The Galaxy Dress for children (belt included) was available for a cost of $48.
Trivia
Luciana was the first Girl of the Year to be released with the new eye style that debuted with Nanea in 2017. American Girl then reverted to the classic eye design. Starting in 2019, later waves of production featured Luciana with the classic eyes. Luciana dolls with the new style could be sent in for a free eye exchange in 2019.
See Also