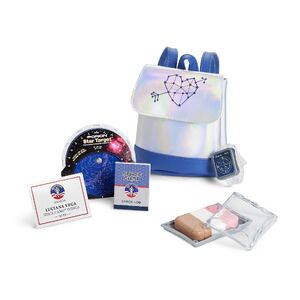 Luciana's Accessories are part of Luciana's Collection. They were released in 2018 and retired in 2020. The retail cost was $25.
Backpack
Silver holograph vinyl backpack. Blue vinyl bottom, straps, and loop. Blue "constellation" style heart with arrow (dots, with four stars). Velcro closure.
Star Chart
Miniature functional 30°-50° N[1] Orion Start Target star chart (planisphere). Identical to authentic Star Target Planisphere.
Smart Watch
Plastic non-functional "smart" watch. Clear strap, silver body. Display sticker of "Stars," Time (9:03) and star map (pointing north) displaying Big Dipper, Norma, Libra, and three other constellations.
Freeze-Dried Ice Cream
Package of Freeze-dried ice cream ice cream. Solid grey front of "package" with Space Camp logo sticker (text: Space Food Freeze-Dried Ice Cream: Ready to Eat!); back is clear plastic with slight ridge to open; both have edges to resemble package seal. Front and back of package connect to each other with pegs.
Inside is block of faux Neapolitan ice cream with chocolate, vanilla, and strawberry stripes; cracks along surface.[2]
Log Book
Paper log book notebook. Front cover reads:
SPACE
CAMP
(Space Camp Logo)
Space Log
and is blue mesh print, red line, and grey with blue edge at bottom. Back is same print but has AG truncated logo. Inner pages are blue lined.
Certificate
White paper certificate with red inner border:
(Space Camp Logo) AWARDS
LUCIANA VEGA
SPACE CAMP® WINGS
---2018---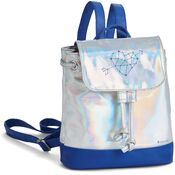 Luciana Vega's Backpack was available for the cost of $28.
References
Community content is available under
CC-BY-SA
unless otherwise noted.