"Logan" redirects here. For the doll, see Logan Everett (doll); for the Hopscotch Hill School character, see Logan (Hopscotch Hill).
Logan Everett is one of the first releases of the Contemporary Characters line and part of Tenney Grant's collection. He was released in 2017 and is the first officially released 18" boy character by American Girl.
In July 2018, American Girl announced that they would archive Logan's entire collection; he, Tenney Grant, and their collections were later archived in December 2018. Tenney's books remain available for purchase.
Personality and Facts
Logan is a drummer and Tenney's bandmate.
At first, he doesn't like Tenney much, as Tenney found him stubborn, stuck-up and overly critical, and he found her scattered and too optomistic. However, they managed to become friends while working together and write songs (their first duet being "Nerve").
He is close to his family, though he misses his father, who is often traveling with his band. He works very hard to help support them, and once resorted to shoplifting medicine in order to get it to his asthmatic brother, which almost resulted in him leaving the music industry. He can be insecure about his home life, and didn't want to tell Tenney about it. However, once she found out, he eventually ended up agreeing to work with her again.
Family and Friends
Family
Phil Everett: Father
Marlene Everett: Mother
Jude Everett: Brother
Friends
Books
Main article: Logan Everett (doll)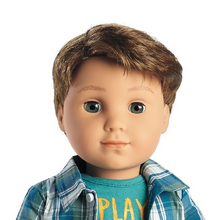 Collection
See: Logan's Collection
Trivia
There is considerable controversy in the fact that the Logan doll uses the Kaya Mold. The mold was originally designed only for the Kaya doll alone, because of a cultural taboo in Nimiipuu (Nez Perce) culture of baring the teeth as it shows aggression. This not only removes the cultural impact, but implies passively that Kaya's face is more "masculine"; furthermore, no other Native characters have been released but Kaya.
References