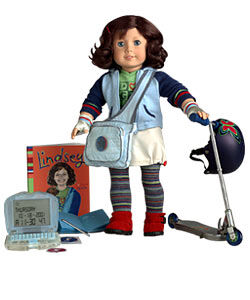 This is a list of all the items that were available for Lindsey Bergman. As Lindsey is a Girl of the Year, she and her items were only available from June 2001 to Dec 31st, 2002, and have since been retired.
Doll
Lindsey came with a paperback copy of Lindsey.
Outfits
Accessories
Book
Complete Collection
Lindsey's entire collection was available at a cost of $135.
Lindsey did not have a Starter Collection because her collection was small.