Limited Edition Historical Items are outfits, accessories and furniture[1] for Historical and BeForever characters that are only available for a short amount of time before retirement. Unlike other retirements, these have generally been given an end date at the time of release.
1997 Limited Edition Outfits
During the Pleasant Company Era, only one set of limited edition outfits--called Special Edition on packaging--were released, each for the five available Historical Characters out in early 1997. This was the first time that outfits not explicitly discussed in the books were released for any Historical Character, which may have been part of the motivation for them to be limited edition. Each set included an outfit--Kirsten's set was the exception--as well as play components for a historically appropriate outdoor activity and came with a special edition informational pamphlet.
The outfits were initially given a retirement date of December 31st, 1997, but rather than being pulled at the end of the year were allowed to freely sell out and retire as they did so.
The released outfits were:
Samantha's Bathing Costume was later rereleased in 2005 with modifications as part of a Historical Swimwear release along with Kit's 1934 Swimsuit and Molly's 1944 Swimsuit and renamed Samantha's 1904 Bathing Dress. No other outfits were re-released.
A version of Felicity's Town Fair Outfit can be seen in Felicity: An American Girl Adventure. Addy's Stilting Outfit was shown both on the third edition cover of Happy Birthday, Addy! and the short story Addy Studies Freedom.
Continued Limited Edition Outfits and Items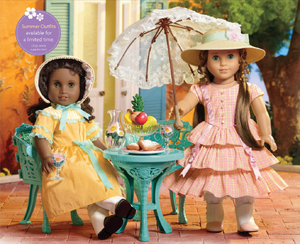 Starting with Cécile's Summer Outfit, Marie-Grace's Summer Outfit, and the Courtyard Furniture in 2012, American Girl started to release limited edition outfits for varying Historical Characters. Generally, they have been available from the release until Dec 31st of the year,[2] and (since BeForever) includes any children's clothing released based on the outfits.
After the official retirement, some outfits returned either missing original components or separated into the outfit and accompanying accessories.
Limited Edition Outfits and Items
Trivia
References